Amsterdam's tram museums back in 2003
Hier geht's zur deutschsprachigen Version / Kattints ide a magyar változathoz
Amsterdam is well-known for its hectic way of life, which can also be said about its tram heritage associations. First, there is the EMA operating a museum tram line, then there's the AOM, and also the heritage bus club MUSA. I think many cities of the world have envied the average Amsterdam transportation fan for such a variety of museal activity. Then in 2004 the Amsterdam municipality refused to prolong the usage of the Tollenstraat tram depot and the Garage Oost bus depot by AOM and MUSA. Both locations had had to be vacated hastily - some of the old trams found new home at the EMA depot, others were either handed over to other cities and associations or transported to sites far from tram tracks.
Of course I could have no idea about all this in October 2003, when I had a chance to visit the hsitoric Tollenstraat depot. Had I foreseen this, I would have put more effort into taking photos there...
Tram remise/workshop Tollensstraat
The old "sawtooth" depot premise at Bellamyplein still housed dozens of old trams, storage rooms full of spare parts and workshop facilities back then:
The large collection of dutch and foreign trams was yet intact - later quite a few non-Amsterdam artefacts had had to be handed down. On the picture to the left we can see a bidirectional 6-axle wegmann/DÜWAG articulated tram from the german city of Kassel, a four-wheeler of Amsterdam, and a PCC from The Hague. To the right three home types: another old four-wheeler, then a round-nose 8-axle artic in old livery, and a 3-axle tramcar, probably with matching trailer at its back.
To the left: this streetcar from the year 1904 was built by Hungary's MWG Győr (sometimes known by its german name Raab). The electric parts were manufactured by Union Elektricitäts Gesellschaft of Berlin, so the type received the name "Union". The dutch company Werkspoor and Van der Zypen&Charlier of Cologne has also built cars of this type, for other cities, too. To the right: the AdTram, with large billboards on its sides, and PA on the roof - I guess this is a very stylish way to gain money for a tram museum.
Due to the narrowness of the halls, I could not squeeze whole vehicles onto a single picture, so here are some details :) the nose and the back of one of the The Hague PCCs.
To the left: a Viennese trailer of type "c". To the right: I have no idea what this "boat trailer" originally was. A 3-axle trailer perhaps?
Unfortunately I'm not sure what has happened to the Tollenstraat tram depot since then. I heard it has became national heritage due to its architecture, but as of 2010 I haven't heard about the then-proposed conversion into a cultural insisutiton, but I was sent a newspaper article about squatters occupying the building recently. On the Google StreeView the entrance of the tram depot looks like this:
What a shame! In Budapest we have also lost a number of old tram depot buildings that could have ideally served museal purposes... Is Amsterdam now catching up, or what? :(
Since the mid-1970s, Amsterdam has a museum tram line completely separated from the city tramway network (of course there is a track connection between them). It was built on the alignment of a disused railway line starting at Harlemmermeerstation. After several extensions, the line now reaches Bovenkerk, which is a good 7 kilometers away. The association "Electrische Museumtramlijn Amsterdam" operates the line and the other facilities, which now also serve as home to some vehicles "evacuated" from Remise Tollenstraat.
I visited this place on a non-public saturday (the EMA operates public rides on sundays in the tourist season) to see two ex-Budapest tramcars that we hungarian tram fans would have liked to somehow get back home. It was fascinating to see members of the association at work: so many operable trams don't come out of nowhere - there's decades of hard work behind what the EMA has achieved! As far as I was told, most vehicles in their collection was owned by members, and they were working on them in their free time. To the left we see the nice old station building which makes a wonderful backdrop to the whole museum operation. To the right: the depot halls are a bit further backwards. As you can see, these tracks are not electrified: they have shunters with diesel generators to haul the trams from and to the museum line's tracks.
A historic remnant of a now non-existing tramway network: a 4-axle Falkenried tramcar from Hamburg, built in 1953 (left). To the right: an SGP-built four-wheeler from Graz (1949).
Number 1024 from The Hague is a truly classical PCC (complete with standee windows), built by La Brugeoise in 1952. Here it was undergoing restoration, but a few years later I was able to ride it.
In another hall they were working on even older rolling stock. The cross-bench trailer to the right is a replica, but it looks wonderful!
A large chunk of the site was fenced off and used as storage area. It was full of all sorts of foreign and dutch trams. What you cannot make out on these pictures is for example a car of the Vienna-Baden interurban, and the two hungarian trams mentioned earlier. The cream streetcar in the middle to the right is quite possibly the four-wheeler number 224 from Kassel.
Number 2964 of Budapest has had a stirring life. It was built in 1904 by Schlick of Budapest for the municipal tramway company BVVV as Type "L" number 480. In 1923 it was renumbered to the currently used four-digit numbering system, from then on it was known as number 2944. Later it became one half of a twin set, renumbered to 2964. After its withdrawal, the tram received a semi-realistic conversion for usage in movies. In that condition it was brough by a dutch tram fan around 1985/86. I was told it wasn't used in Amsterdam all too often, so it was towed to the storage area. In 2005 the EMA had had to make space for the trams evacuated from Remise Tollenstraat, and this is when it returned to Hungary.
It was not Budapest, but the eastern-hungarian city of Debrecen that got hold of the tram. They very nicely reconstructed it to a state in which sisters of this car were once used there. It can now often be seen on chartered rides and during festivities.
The four-wheeler 2624 was the other ex-budapest tram in the EMA collection. This type is in fact closely related to 2964, as it was built by the same manufacturer for the same tram company in 1906. Its totally different look dates to around 1960, when the car received a new steel-frame body. The tram got to Amsterdam around the same time as the other ex-Budapest car.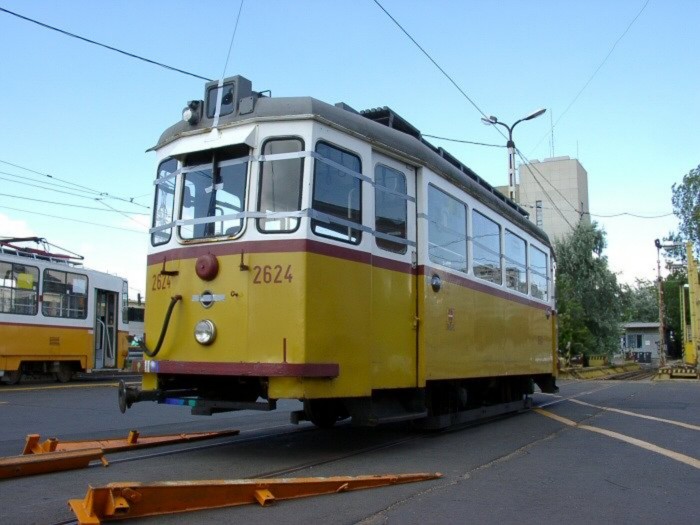 In 2004 this tram was brought back to Budapest by the BKV (here we can see it at its arrival to the main workshop of the company at Fehér út). Unfortunately it's still waiting for a renovation due to the lack of funds.
Many thanks to Willem Ballman and other members of the EMA for their help!
---
Back to the top
Back to the main page