Tour de Trams IV
Pictures from Geneva (Geneve, Genf)
We went to Geneva for two days, but spent most of this time at other places around the wonderful Lake Geneva, like Montreux and Vevey. We even spent some time at the airport, and had only a few hours for trams. Currently this historic city does not have a really large tram network like Basel or Zürich, but in a few years, who knows? Earlier only one tram route (12) has remained of the original network, now there are more, with several proposed extensions - and route 17 was launched only about a month ago.
One of the brand new low-floor vehicles, a Bombardier Flexity Outlok, a.k.a. "Cityrunner" (I must say I liked this designation much more!) in front of Gare Cornavin. Note that while the older trams are single-ended with doors on just one side, these new ones have doors on both sides and are bidirectional. It seems that they don't want to build reversing loops at the termini of the tram network extensions anymore.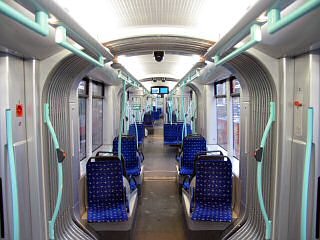 I already tried this type in Graz and Linz, but this version seemed more elegant. One interesting bit: the tram has a lockable compartment door in the middle. I heard that in the late evening hours they close down the rear segment of the vehicle, so the passengers stay in the front. Must be interesting, but we haven't seen that.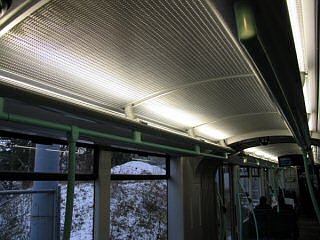 Another thing I liked quite much: the indirect lighting: the lights are aimed at the roof, which reflects it around the cabin. Don't worry, it's not as dark as on the picture, I only played around with the shutter speed to capture the reflections!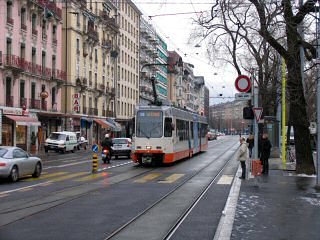 An older type is the eight-axle Be 4/8 built by Vevey/DUEWAG...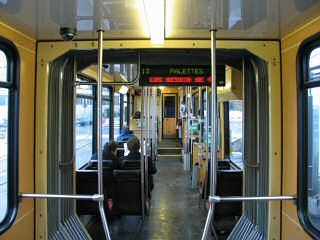 ... which is an almost-low-floor vehicle (floor level: 480 mm) with a rather spartan interior.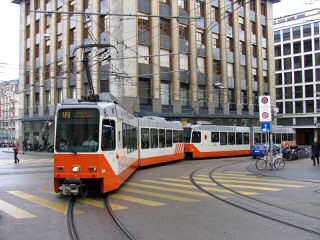 The predecessor of the eight-axle type was the Be 4/6 built in the eighties. These were operating in double-sets.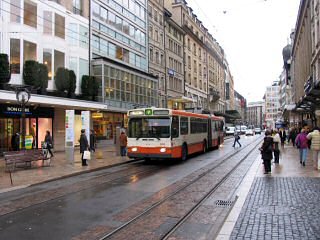 An elderly trolley bus.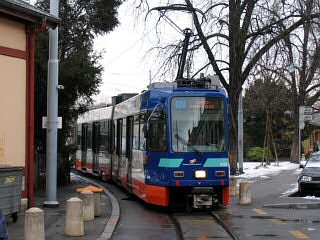 Another Be 4/8 - this time with a colorful all-over ad - at Gare SNCF.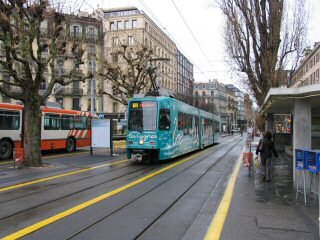 Another colorful Be 4/8...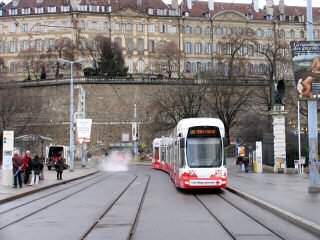 ... and a Cityrunner in a scenic environment. The steam on the left-hand side was due to the cleaning of the points.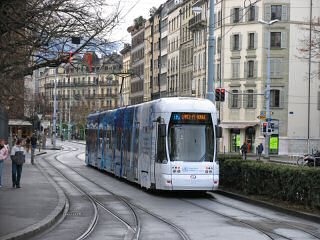 I liked the multicolor matrix displays on the public transit vehicles!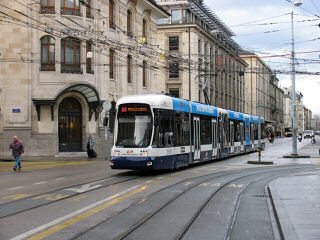 Just look at the ammount of overhead wires on this picture - impressing!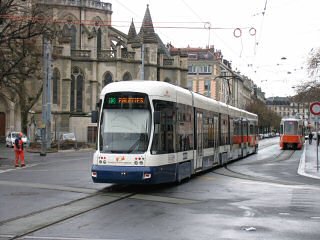 I end this page with another photo taken near Gare Cornavin, with a cut-off tram track in the middle. Unfortunately we haven't seen the double-articulated diesel and trolley buses that were just being introduced here. Maybe next time!
---
Back to the top
Back to the main page