The introduction of the TW6000 in Budapest
... that is a few pictures taken at the press conference and some personal thoughts
I don't think it's easy for someone from another country to understand what was going on with these trams.
On one hand, you've got obsolete rolling stock and a german company (UESTRA) willing to sell you 68 used ariculated cars which are in good condition. On the other you've got a city council that prefers almost anything to trams. The result: the Budapest Public Transportation Company (BKV - owned by the city) opted to buy these trams from Hannover but the council did not want to pay for them. A long and harsh struggle begun, but after all the used Düwag articulated got the green light. To make the most out of it (apart from one experimental car (3750) this was the first time BKV purchased trams in 16 years!) as soon as the first two cars arrived, BKV threw a party (a press conference really) to show them to the public.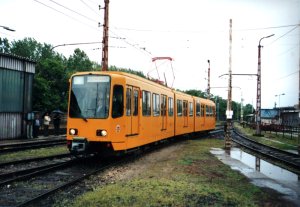 I didn't pay attention, so I cannot tell you which hannoverian car this was, but as you can see, it didn't had a registration number at that time - it was just taken in use to start the test runs at the test field of the BKV a few days ago. The car rolled in, opened the doors and the attendants could climb in.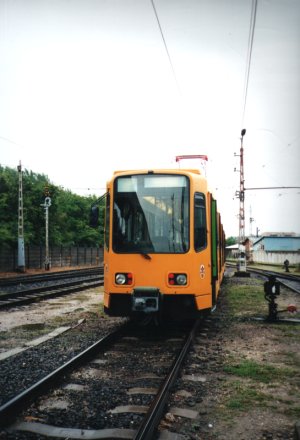 Climbing is the right word: these are no low-floor city-runner trams, they're more like LRT.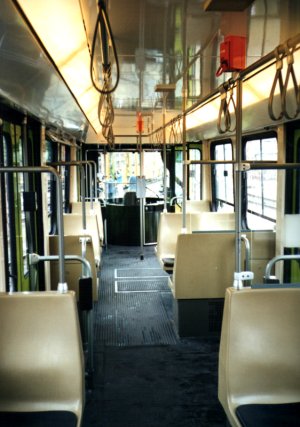 The interior space was left just like it was: no hungarian signs or anything. (Remember: this was a public test run on a private test track!)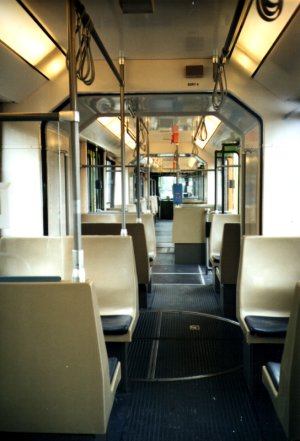 This kind of design is new to Budapest trams: no carpeted seats, no wooden parts...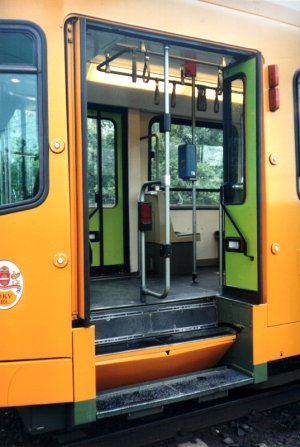 The door with the steps sinked to low-perron usage.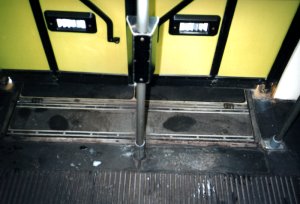 The inside of the doors have kept the green color used in Hannover.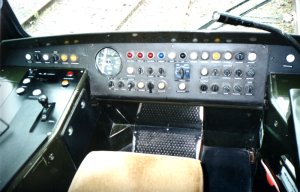 The driver's cab. Although this construction is more than 25 years old, it is the most ergonomic one in Hungary...
After we had time to take photos, one of the two trams did two rounds on the test track. It was fun to be among the first people riding with this model in Hungary :-) The test runs were well on their way from that point on, and the series was given the 1500 numbering regime (that is 1500-1575 after a few more were purchased). This is the third tram series with these numbers: the first were the BKVT/BVKV "F"-series in 1896 and the second the BSZKRT "F1A" series from 1938 til 1984. The inhabitants of Budapest gave different nicknames to the TW6000: "Hannoverian", "Camel" (TW is pronounced "teh weh" in hungarian, which means camel) and "Banana" (because it was green, then it turned to yellow - and it bends like a banana, too).
---
Back to the top
Back to the main page