Sound of trams (UV and Benghazi) in .WAV!
The sound of the vehicles is an integral part of the general image of trams (and not just here - the inhabitants of Vienna call their trams "Bim" because of the sound of their warning bell). To tell the truth, our trams are a bit noisy - some of them even very noisy - but that's in their appeal!
The samples below were recorded with Mr. Ákos Baracsy's Kodak digital camera on normal traffic cars. The first two samples (Benghazi at Szeged) are a bit dim, but the other are quite good. You can use Microsoft Media Player, WinAmp, or some similar application to listen to them.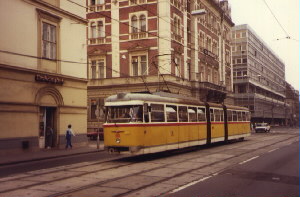 The Benghazi is a very loud beast: the whole articulated tram has only got two weak motors producing a low-pitch grumbling sound, four single axles that squeek in curves and the chassis and body even amplify those noises to the extreme!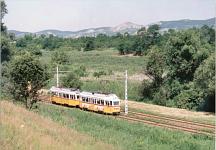 We recorded these sounds on Route 41. For those of you who don't know Budapest: Route 41 rides through a forest landscape (Kőérberek and Kamaraerdő - see picture above) with rare stops at its outer section.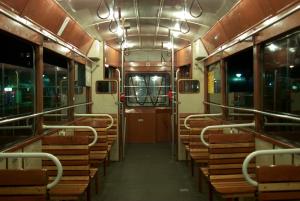 After the ride on Route 41 we changed to the middle car of a 3-piece UV-set on Route 47 - the trailer 6000. These 2-axle trailers run very rough, sometimes you get the impression that the car will jump off the tracks - but it won't.
---
Back to the top
Back to the main page