Vienna Tram Day 2006
September 16. 2006
As usual, on a cold morning in the middle of September I boarded an early train to Vienna, to get to the annual tram feast of the austrian capital.
The actual event took place in the Währinger Gürtel depot, but with the help of Mr. Heinz Heider, I was able to catch one of the trains of the special shuttle service at Westbahnhof while heading for duty. Incidentally, the unit was towed by motorcar M 4148 - I took my first Vienna tram picture right here in 2000, and the vehicle on that photo was a heritage tram set, towed by the very same motorcar!
We first travelled into the inner city, to board one of the heritage shuttle trams. We then alighted at Nussdorfer Strasse, to take a few photos around here. Everything was full of old trams, and even the sun came out from behind the clouds...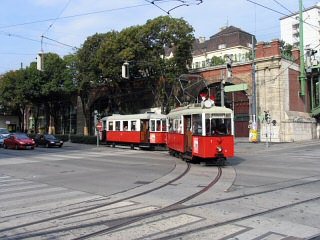 ... for a few minutes (the rest of the day was pretty overclouded). On this picture we see a german-built KSW tramcar heading back to the inner city. I wish there would be a similar event in Budapest to see so much old trams together!
Apart from the shuttle services, there were a few other old trams doing short rounds around the depot. These were cars of the Viennese Tram Museum, for example D1 314...
... K 2283...
... and P2 462. These cars are rarely seen in the city.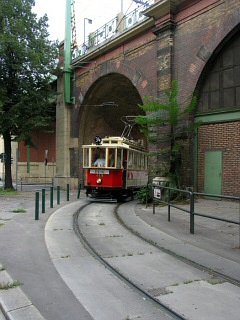 The old viaduct of the U6 metro service (one the the originally steam-hauled Stadtbahn lines)...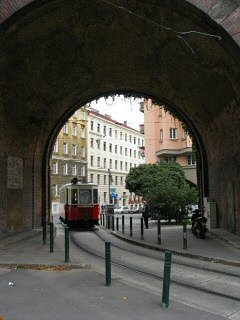 ... provided a great background for photos!
The "short round" services only stopped in front of the depot...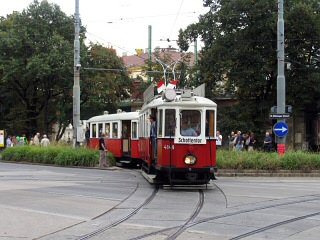 ... while the shuttle services...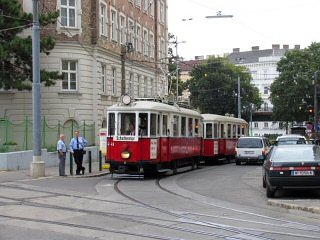 ... were terminating in a reversing loop in the surrounding streets.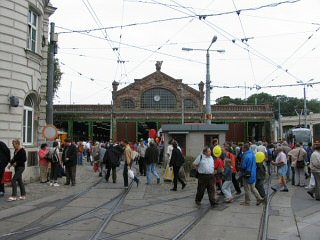 I must confess, the happenings inside the remise were not my cup of tea. Too much people standing in front of everything, making photographing a hard task :))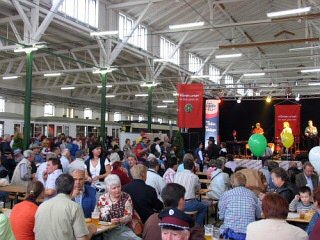 It's mainly a family festival...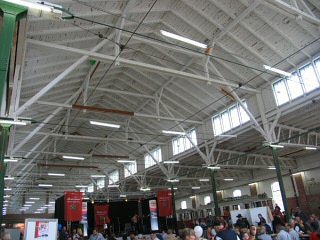 ... in a wonderful environment...
... with interesting "background exhibits", like this class G car, with the retrofitted windshield "cage".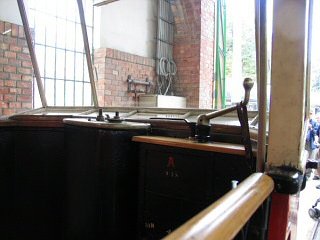 It was built in this strange way because of the controller and brake levers located on the front of the originally open platform.
A class B tramcar - the first Viennese tram with pneumatic doors. Too bad I didn't had a chance to ride this type yet - it's one of the most interesting types, I think.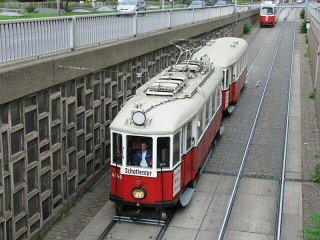 I started this page with a photo of number 4148, so I end it with another one: the shuttle on the ramp leading to the lower (underground) reversing loop at Schottentor.
---
Back to the top
Back to the main page