Tramwaytag 2003. - I.
The day of the "Bim" in the Hernals depot
My tram-enthusiast friends from Vienna and also from Hungary have been asking me what will I do on the 14th of June over and over again during the last few weeks. My answer was: I'll go and see "Tramwaytag", the day of the red-white trams in the austrian capital, what else?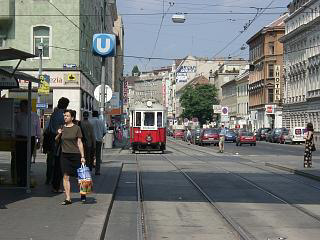 Tramwaytag is an annual celebration of the "Elektrische" or "Bim" - as the viennese call their trams. The festivity is in fact an open day in a tram depot with many programs, and with heritage cars acting as a shuttle service between the site and the inner city. Strangely enough, last year's Tramwaytag took place in a bus garage, but this year it was held in the Hernals depot (along route 43 - and if I'm not mistaking, the first horse tram route of the city in 1865).
The picture above: one of the four heritage motor+trailer sets of the festive shuttle service.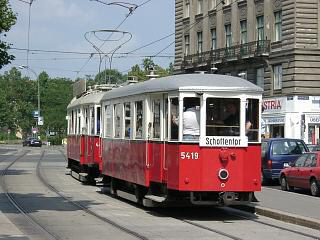 Vienna sports one of the biggest collections of old tramcars I believe. Some of this stands in the tram museum in Erdberg, others are operated by enhusiast clubs out of the Rudolfsheim depot. I must confess I don't know whom the above heritage set belongs to...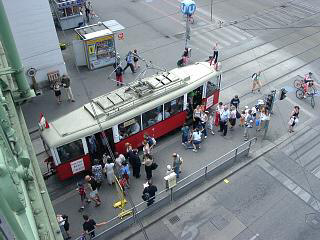 One of the heritage sets carrying tram fans to the site of the feast was driven by this KSW (Kriegsstrassenbahnwagen - unified 2-axle motorcar type designed during the second world war for german and german-occupied cities). The photo was taken from the Stadtbahn-station Alser strasse.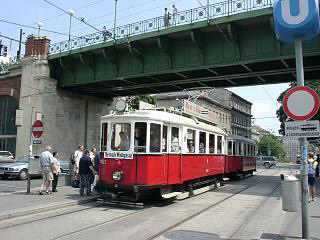 Type M is probably the most dominant tramcar type of Vienna. Three out of the four shuttle sets was trailed by such a car. Above the cars you can see the flyover and station of the Stadtbahn, from where the previous picture was shot.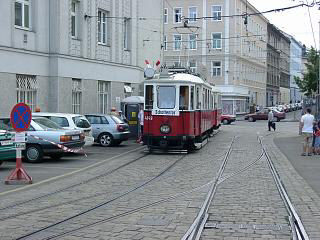 Number 4149, another type M (in different condition) approaching...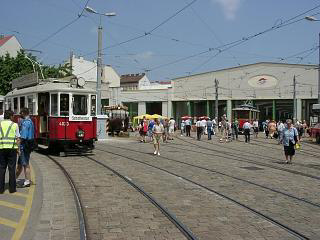 ... the site of the Tramwaytag: Remise (depot) Hernals.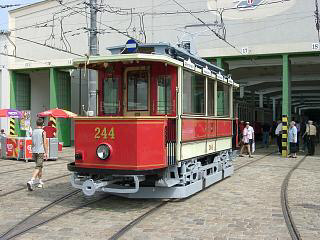 The oldest car on display and in the collection of the museum is this one: type D (1899).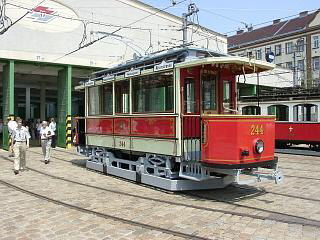 It surrived the last decades as a workscar and was renovated in Romania.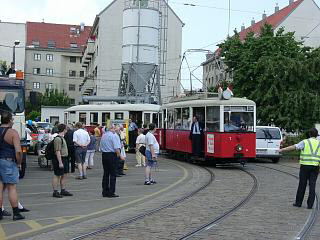 The KSW again.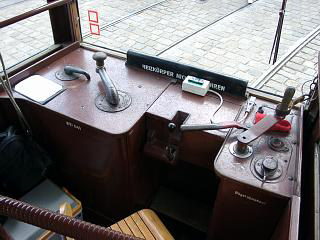 The driving cab of the german-built car from which 30 pieces were used in Vienna.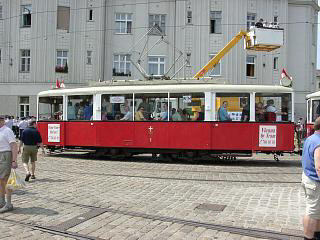 Side view of the KSW with the characteristic one-leaf manual slide doors on the end platforms.
Next page: a peak inside the depot...
---
Back to the top
Back to the main page