Budapest tram snapshots, Sep/Oct 2005 pt.1.
(Insert your own prologue here - I cannot think of anything right now:)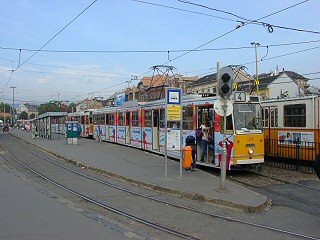 A typical sight: coupled Ganz CSMG2 unit at the terminus of route 4 at Moszkva tér with an ugly "almost-all-over-ad".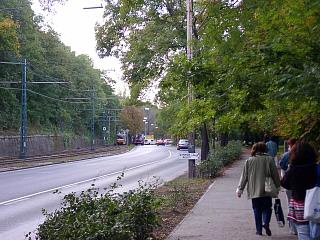 Hey, what's that? So many foot-passengers along a tram line can only mean one thing...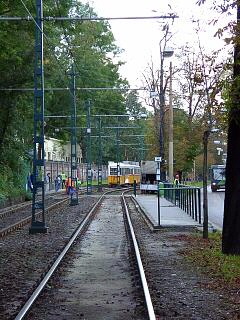 ... trouble. And this seems really like trouble: a UV-trailer in Szilágyi Erzsébet fasor, which is normally Tatra-territory (route 56 and 118)!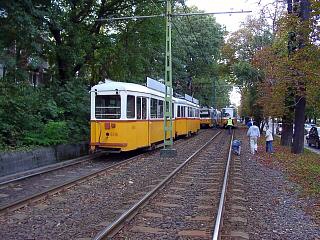 Apparently a UV triple-set (motor+trailer+motor) took on a looong redeployment ride from Remise Baross to Remise Kelenföld, (this was definately not the shortest way) when one of the cars derailed. The leading powered car already went forth to Moszkva tér...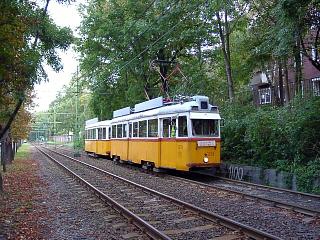 ... while the other powered car took the trailer up to Remise Szépilona (to reverse there on a reversing triangle)...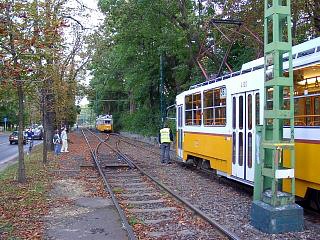 ... running on the "wrong side" for a while...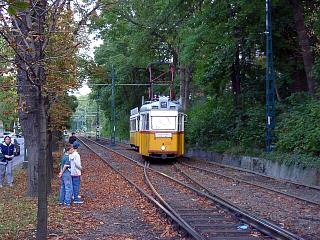 ... until the nearest crossover.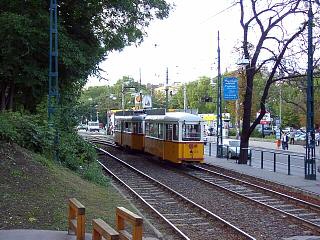 A motor+trailer unit hasn't been used regularily since 1983 or so, so this setup reminded me on the times when route 56 was operated with 2-axle powered cars towing a 2-axle trailer! (Photo from the early eighties taken by Stephen Dee)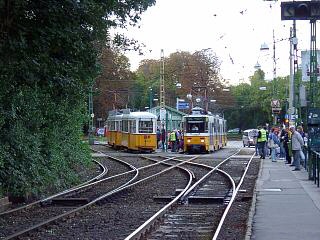 The turnout at Budagyöngye. To the left, over the remaining 300 meters of tracks of the "lost route" 58: Remise Szépilona, to the right: route 56.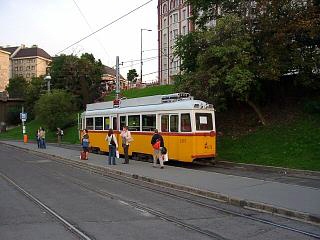 The leading car has been parked...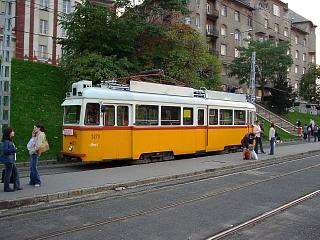 ... on one of the reserve tracks of Moszkva tér meanwhile.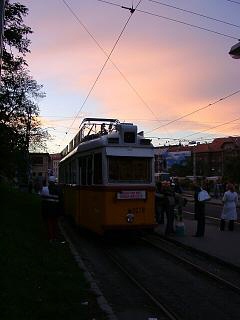 Dusk over the lone UV. In two days the cars involved were back in duty, so nothing bad has happened them during the derailment.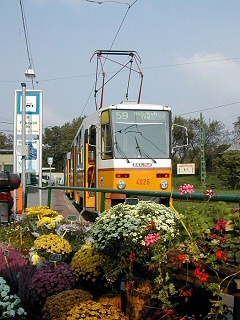 Tatra T5C5K at the cemetery of Farkasrét...
... which is of course the upper terminus of route 59.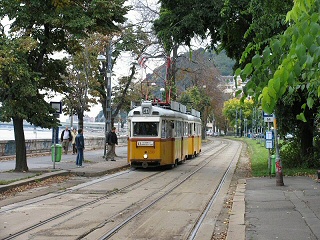 Grey autumn weather at the Danube with a UV double-set of route 41.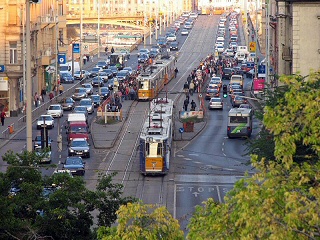 The Buda bridgehead of of the Margarite bridge (Margit híd) seen from above.
This is not Budapest, but maybe you'll like it: the narrow-gauge railway between Kismaros and Királyrét...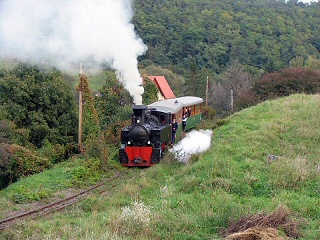 ... celebrated the end of the tourist season with a couple of steam-hauled rides.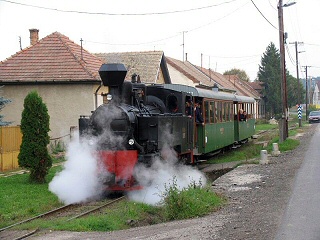 My favorite section of this line is where the railway runs along the main street of the smalll village Szokolya, with a couple of stops underway, just like as if it was a tramway. The residents of course came out of their houses to see - and hear! - this neat steam loco in action :)
Route 41 in the evening, tram 61 in daylight, and a chartered ride with a historic vehicle
---
Back to the top
Back to the main page