Budapest tram snapshots, August and September 2005
Here goes another bunch of photos I took of Budapest's trams in the last few weeks. New line openings did not take place, but at least we've got a fair dose of unusual activities...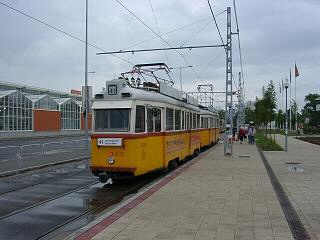 Because of the reconstruction of a flyover bridge over the line on its outer section, route 41 was detoured...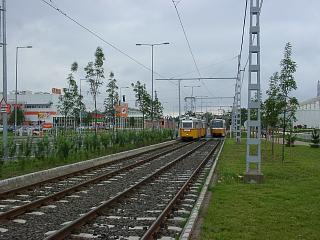 ... to Savoya Park, terminus of route 18.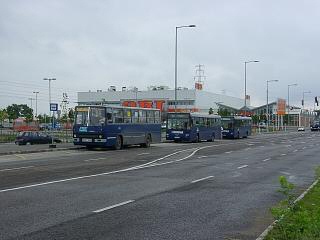 The rest of tram 41 was serviced with buses.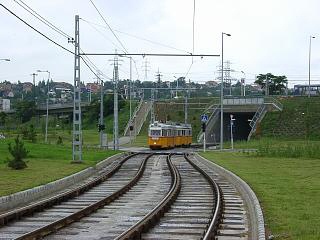 Hm, I think UV's go nicely with this relatively new brach-line (it was inaugurated at the end of last year).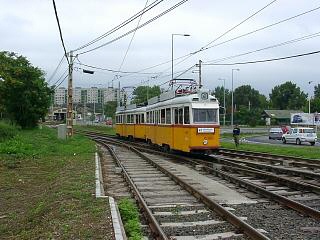 Of course, UV's would go nicely with anything, even with a desolate turnout like this (the junction of route 18 and 47). In the background you can make out Remise Budafok.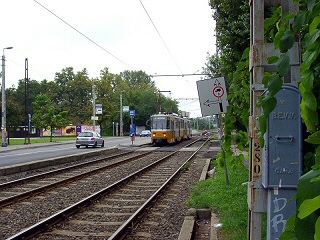 Tram 18 near Remise Budafok. The switch box on the right-hand side features the insignia "B.E.V.V." which was a joint transit company 90 years ago, so the box must be quite old.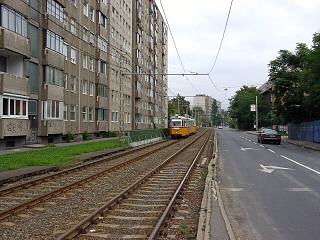 Noise absorbing wall between tramway and dwelling-house in Fehérvári út.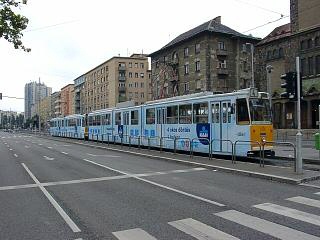 "All-over ads" are not really "all-over" in Budapest: the front and back ends of the trams must remain yellow due to some central regulation.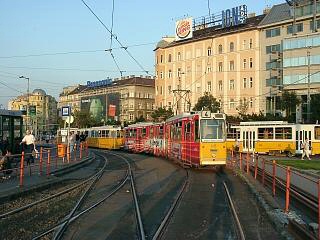 Another one at Moszkva tér. Looks odd, ain't it? Although yellow goes better with red than with the blue on the previous picture :)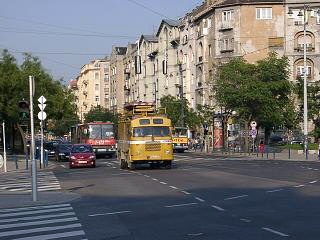 Two-way (rubber tyre and steel wails for rails) overhead-repair tower car at Kosztolányi Dezső tér. This old Skoda/LIAZ type from the COMECON-days slowly gets replaced by more modern Mercedes-Benz vehicles.
The outer section of Bartók Béla út was completely rebuilt, cutting Remise Kelenföld off the rest of the network, so two of that remise's routes, 19 and 49 were operated with UV's residing temporarily in Remise Baross, which lays along route 24 and 28. This necessitated long depot rides: this UV triple-set for example is seen at Albertfalva, kitérő along route 18, 118, 41 and 47 - pretty far away from line 49's normal route.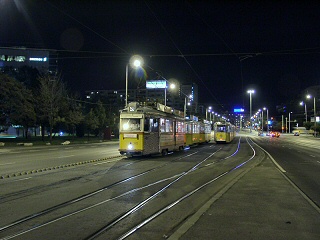 The same unit climbing up the ramp to Petőfi híd (bridge) to get onto the other side of the Danube.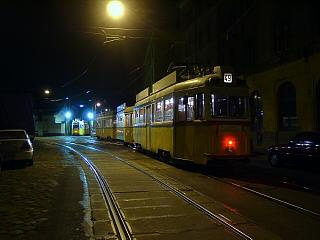 Queuing UV's at Remise Baross' back gate.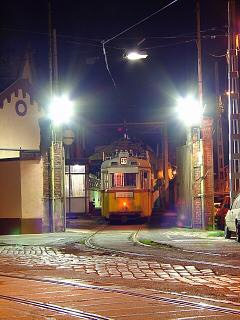 This remise never housed UV's permanently, so this was indeed a nice photo opportunity.
A UV triple-set of route 49 heading from Remise Baross to its normal line via the Grand Boulevard...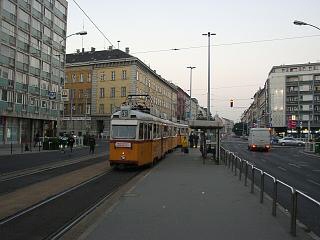 ... seen here at the crossing of Üllői út.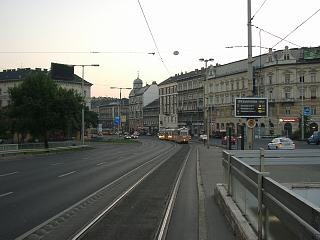 Boráros tér with another UV unit.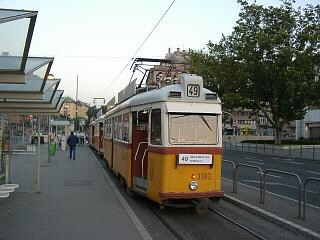 The UV's went down to route 4's southern terminus at Fehérvári úti lakótelep...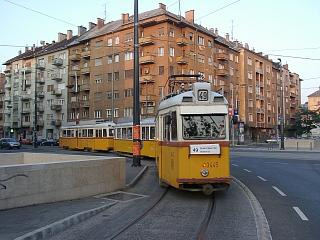 ... turning onto Fehérvári út via the connecting track there, the going to Móricz Zsigmond tér, where they reached their normal route.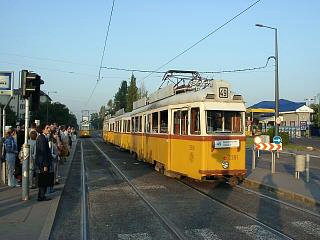 The provisional stub terminus of route 19 and 49 at Tétényi út, right in front of the section being renovated.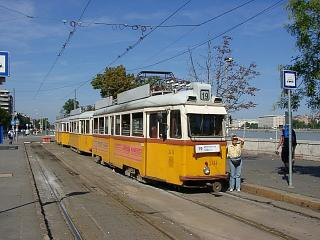 A sunny shot, "just so": route 19 at Batthyány tér.
Next page: more construction works and some TW6000
---
Back to the top
Back to the main page