Tour de Trams IV.
Innsbruck, again
We arrived (back) to Innsbruck late in the evening. The third guy in our company stayed on the train to get back to Hungary as soon as possible, because he has caught a cold. We decided not to alter our travel plan, so there we were just the two of us with András, like on our first trams&trains trip three years ago.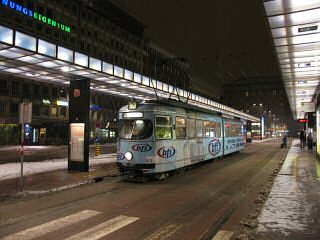 Although it wasn't as cold as a few days ago in Basel, it started to snow. What luck, trams in the night AND snow! Unfortunately it was quite late, so the tram traffic at Südtiroler Platz wasn't really dense...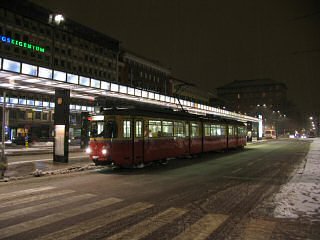 ... but I even managed to catch an eight-axle vehicle of the Stubaitalbahn at its new terminus (the service was terminating at Maria-Theresien-Platz during my earlier visits).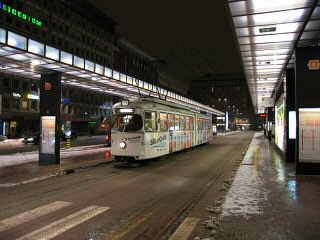 Another tram 3 at the same location (only on another track - the city lines use the one located further away from the main station)...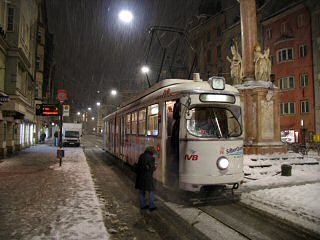 ... and the same car at Maria-Theresien-Platz.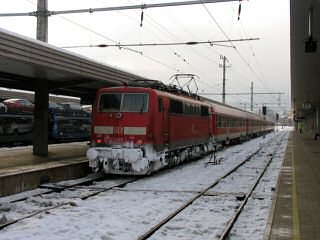 Next morning we left our bags at the main station, and then took a few pictures of trains...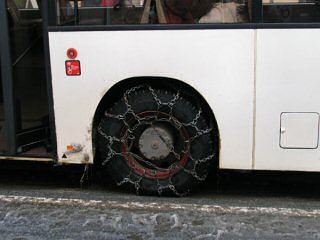 ... buses running with skid-chains...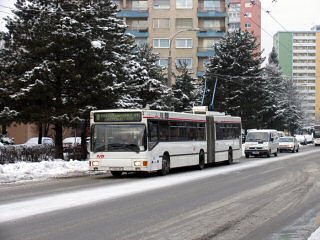 ... and trolley buses.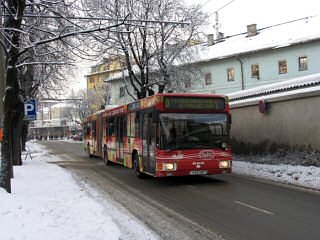 The latter will very likely disappear from the city in favour of the extension of the tram network.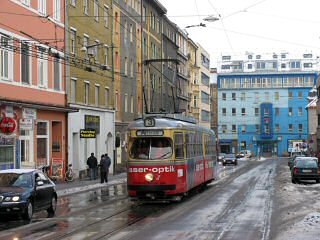 The tram tracks leading to the main station were also unused during my previous visit here. Note that the other track is unused (yet), they haven't even got a wire over it! On the other hand, the trolley bus overhead is there, only the last segment is missing at the terminus, so the whole is not used either (therefore route R - the other remaining trolley bus service among route O - is operated with diesel buses).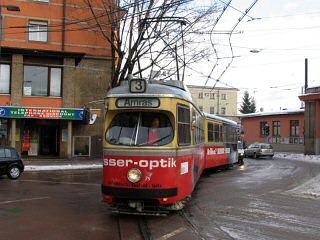 Too bad that the proposed tram extensions will also mean the end of the DÜWAG products (including the ones built by Lohner) in Innsbruck!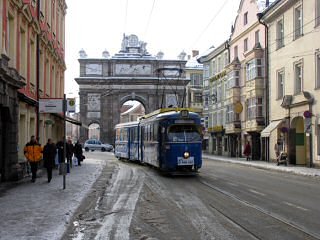 Another tram at Triumphpforte.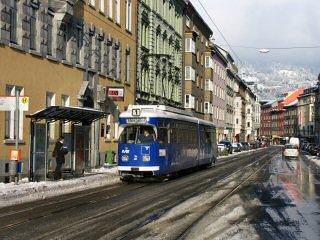 As you can see...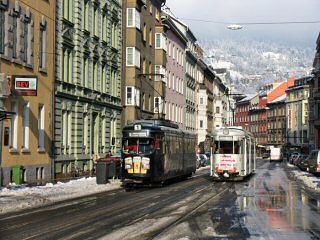 ... this tram system is even more dominated by all-over ads than Linz or Graz.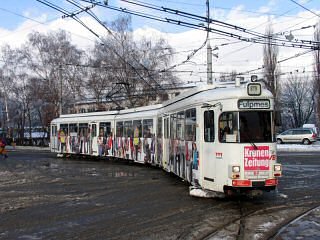 Another colorful bird of the Stubaitalbahn service at Stubaibahnhof, where the tram and trolley bus depot is also located (hence the vast amount of overhead wires above).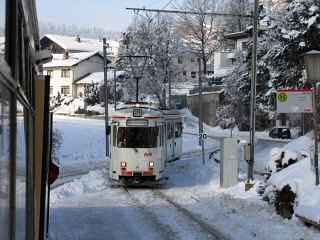 The Stuibaitalbahn is a vicinal service running in the Stubai valley on the sides of high mountains in a typical Alpine setting. I have already rode it for a few times, but I still found it magical. It's so nice, I don't even know how to describe it! Here we see one of the passing loops of the one-track line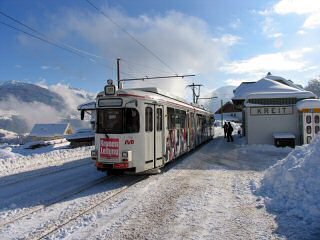 The stop Kreit looking like a scene out of a tale. Let's end this travelogue with this scene - the rest (back to Budapest via Vienna) was much more duller :)
THE END
---
Back to the top
Back to the main page