Tour de Trams IV.
Basel, "tramspotter" paradise
I first visited this wonderful town two years ago, and I realised right away, that this was a "my kind of a place", mixing historic architecture with an unbelievably lively tram network :)
Let's forget how uncomfortable our stay for the night was - like we did forget it quickly indeed...
... as soon as we arrived to Centralbahnplatz, a busy square in front of the main railway station of the swiss federal railways (Bahnhof SBB)...
... with a cavalcade of tram routes, tracks and tram types. On the previous picture we can see a double-set of 6-axle DÜWAG articulated cars, while here we can see the currently newest model, the Siemens Combino.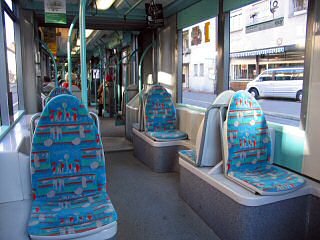 The interior of a Combino. These 43-meter-long vehicles...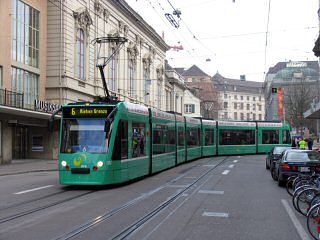 ... are quite a sight in bends (like here at the crossing Steinenberg/Theaterstrasse)...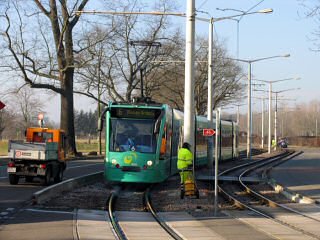 ... and on some suburban sections, where they run pretty fast on their private right-of-way with superelevated curves.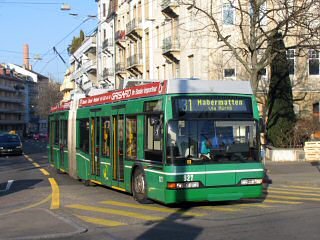 Basel has one trolley bus line - a remnant of a once bigger network.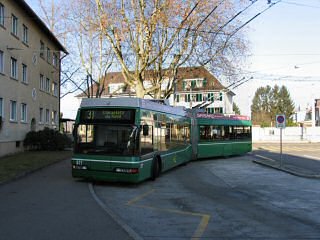 The future of this system is not secure: the transit operator BVB would like to close it, while others would like to see this transportation mean getting more important again.
Mittlere Brücke: because the light conditions were quite good here, we stopped on this bridge, and made a few pictures.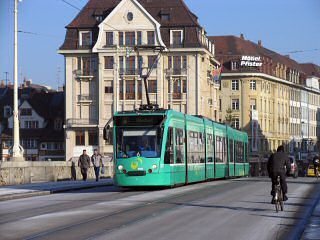 Of course the bikers were always getting into the picture, but I think this is what a healthy city should look like: pedestrians, trams and cyclists - and only very few cars!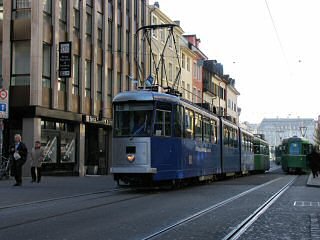 A visitor from Bern - a couple of such articulated trams were borrowed from named city during the "Combino-grounding", when all those low-floor-trams were temporarily withdrawn due to cracks on their framework.
A fellow tram enthusiast, Mr. Guido Studer has organised us a visit to depot Wiesenplatz, where by coincidence we had the chance to see an oldtimer tram set shunting in front of the classic buildings of the plant.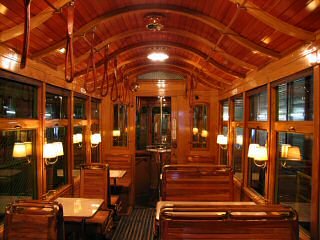 The oldtimer we saw was a rolling sightseeing bar - too bad we don't have such trams here in Budapest!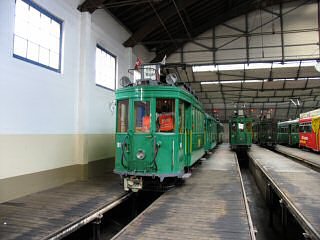 "Tramclub Basel" operates a number of other heritage trams out of this remise.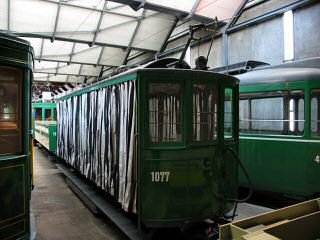 In fact "a number of" is an understatement - it's quite a collection!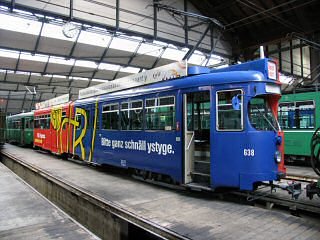 Of course most of the depot is used by normal trams. Interesting for me were these trams...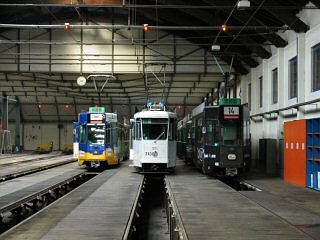 ... with all-over ad liveries. There are not too many of them!
In fact the white car was not "wearing" an ad, but the remnants of an ad, which it has carried in its hometown, Bern.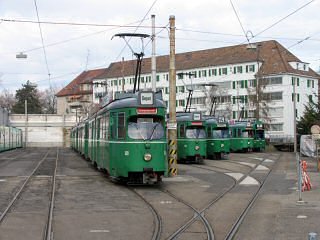 Oh, I love sights like this: classic DÜWAG trams. The ones built for Basel have distinctively narrower fronts than the "normal" version of this type.
And another tram from Bern, this time seen at Barfüsserplatz - this is how the car looked two years earlier in its original home.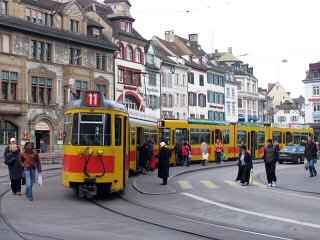 Until now we have only seen the green trams of the company BVB (Baseler Verkehrsbetriebe), but there's another company operating trams in the city: BLT (Baselland Transport). Their trams feature a characteristic yellow-orange livery.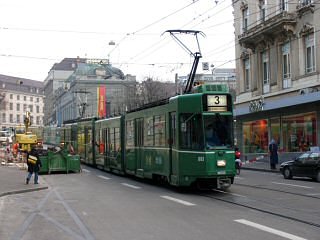 Maybe you already have noticed, that in this city they couple almost every tram type with every other tram type. This set, consisting of a three-section articulated car with low-floor middle piece and an older, four-axle motorcar was certainly not the strangest one we saw.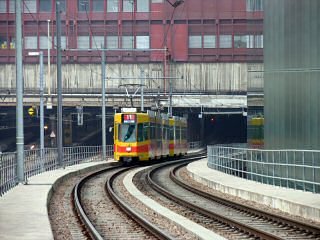 It got dark too early again, so we ended our photo walk at the relatively new viaduct section next to the tracks of the main railway station. It seems we will have to come back again, because there's still plenty to see here!
---
Back to the top
Back to the main page