Budapest tram snapshots, Sep/Oct 2005 pt.3.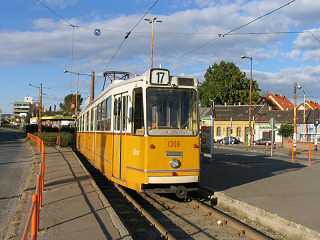 Ganz articulated car at the northern terminus of route 17 atVörösvári út/Bécsi út in sunshine...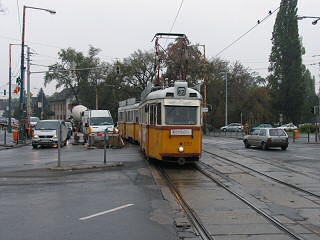 ... and a tram 42 approaching its inner terminus at Kispest, Határ út in rain.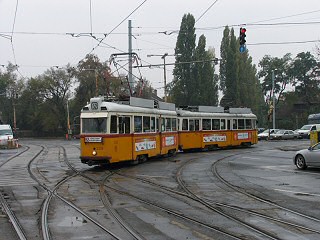 A tram 52 just thirty meters away from the previous scene. The two routes unite here, right in front of their joint terminus.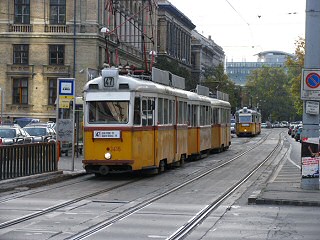 Queueing UV's on the Small Boulevard at Astoria.
Deák tér, terminus of the Small Boulevard routes 47 and 49.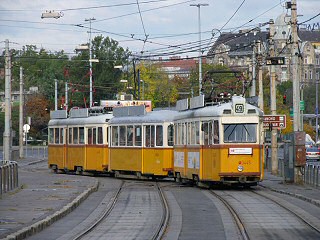 A UV triple set arrives...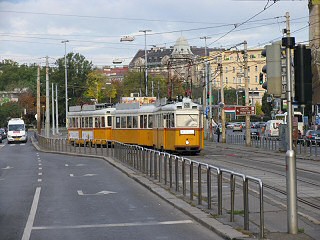 .... and another UV triple set departs. Until 1980 the trams went until Nyugati pályaudvar (Western Station) via Bajcsy-Zsilinszky út, since then this is a stub terminus.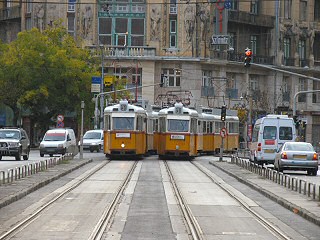 The Small Boulevard at Dohány utca.
Újpest, in the northern parts of Pest, where route 12 and 14 run, saw a number of track repairment works this autumn. Route 12 was close for this time, while tram 14 was operating only between Angyalföld forgalmi telep (where this photo was taken) and Lehel tér.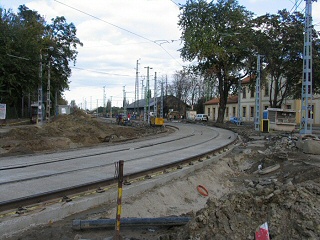 The curve in front of the railway station Újpest-Rákospalota...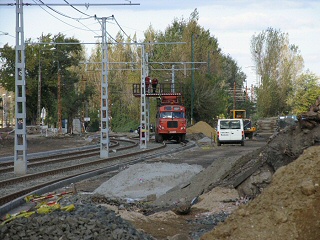 ... and Szilágyi utca were the parts that were more throughtly upgraded.
After the tram tracks were opened: no, this tram 14 is not running on the wrong track! The driver must have just forgot to turn off the headlights before reversing at the outer (stub) terminus.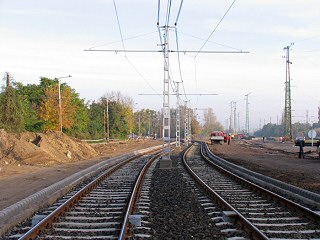 The section in Szilágyi utca was rebuilt so that the vehicular traffic could have more space...

... but the way the tram tracks were aligned is a bad joke I think. Just look at this series of photos, with a tram 14 zig-zaging on the winding trackage. What on earth did the designers have against straight sections?!?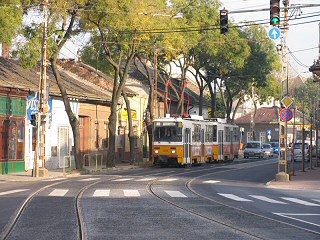 The short narrow section of István út (which looks the same like it used to 100 years ago) also received fully new tracks...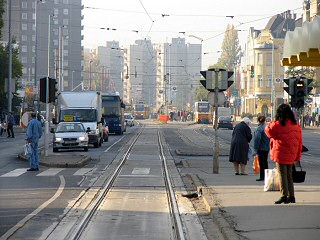 ... but most of the other sections in Újpest retained the old "big concrete panels with block rails" trackage, which can be quite like a roller-coaster ride due to poor maintenance over the years. And this is the last photo for now, I hope you liked this pictorial!
Continued: October and November in Budapest
---
Back to the top
Back to the main page