Budapest tram snapshots, Sep/Oct 2005 pt.2.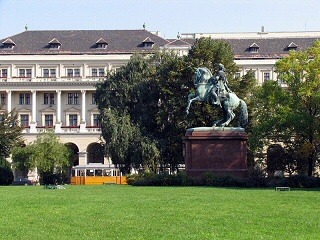 Route 2 at the sun-lit southern side of Kossuth Lajos tér.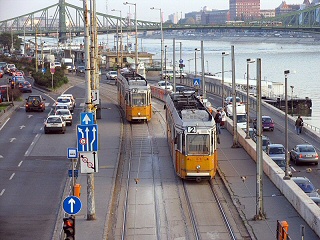 The same line a bit more to the south, seen from Elisabeth bridge (Erzsébet híd). In the background you can also make out Liberty bridge (Szabadság híd) with a UV triple-set on it.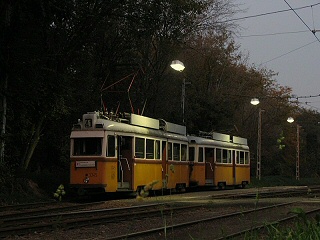 Kamaraerdő, the outer terminus of route 41, with a UV double-set taking a pause on the reserve track.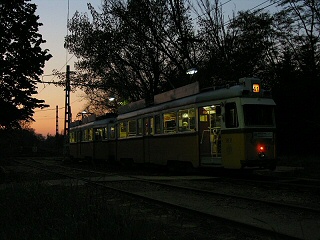 Sundown with another tram 41 waiting for departure.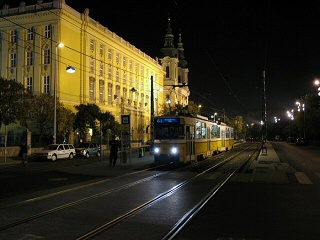 Night shot of a T5C5K (modernised T5C5) on route 61 in Villányi út at Tass vezér utca.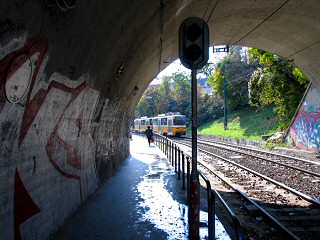 The "tunnel" at the southern corner of Moszkva tér, which is used by route 18, 59 and 61.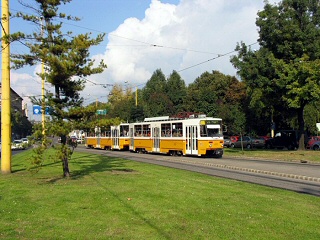 Krisztina körút between Moszkva tér and Déli pályaudvar (Southern Station)...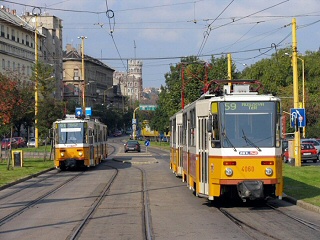 ... where route18 and 59/61 part ways.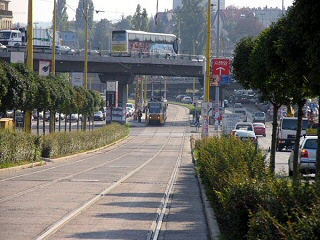 The slope of route 61 seen from above, from Csörsz utca...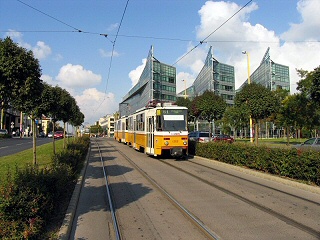 ... and from below with some modern architecture in the background.
A group of tramway enthusiasts from the UK chartered historic tramcar number 611. Here we see the car leaving Remise Ferencváros - note the bow current collector facing forward, so in the wrong direction. This is because it needs a loose section of overhead to be able to turn around, and until they reach such a section, they must run like this.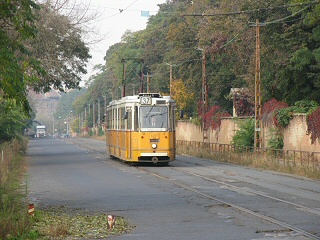 We knew where this oldtimer would go, so we (me and a friend) drove forth to Salgótarjáni utca...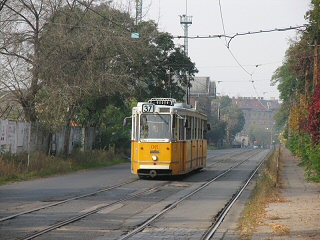 ... where I took a number of photos of route 37...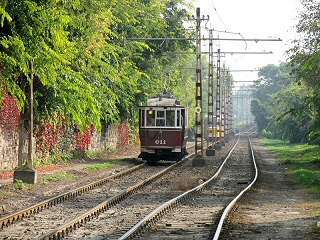 ... until the chartered tram arrived.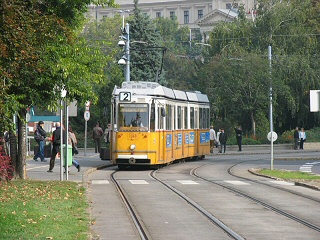 Our next "stop" was at Kossuth Lajos tér, where we again arrived too early...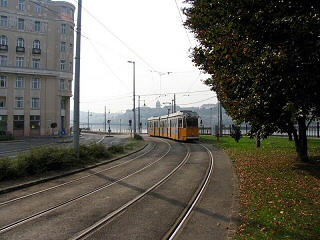 ... so I took some more photos of route 2...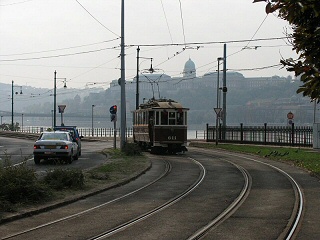 ... until number 611 was there. In the background you can seen the Danube and the Buda Castle District.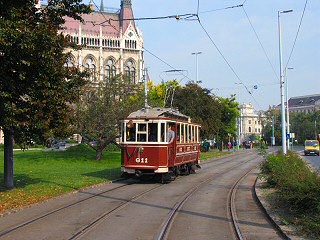 On its way back from Jászai Mari tér (the northern terminus of route 2)...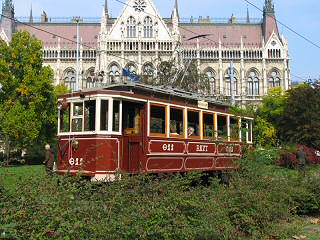 ... the enthusiasts took a photo stop in front of the Parliament. We had some nice sunny weather so I hope they went home with nice memories!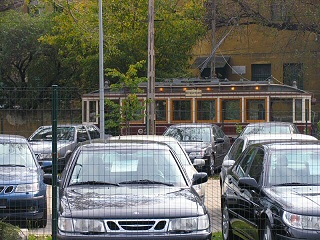 The old tramcar then went back to Remise Ferencváros. Here you can see it approaching the backyard of the depot. By the way: which car would you chose from the picture? The modern automobiles in the foreground, or the old tram in the back? :)
Autumn moments, UV's in the morning hours, and the "new", snaking Szilágyi utca in Újpest
---
Back to the top
Back to the main page