Budapest tram snapshots 2/2
Due to a broken water pipe, the Small Boulevards tram lines 47 and 49 were detoured to Batthyány tér, so on a cold, but sunny morning I went out to take lots and lots of photos of my dear UV's on the Danube embankment.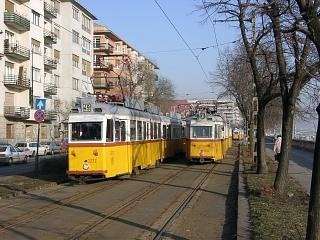 Yellow trams, blue skies - that's the way I like it!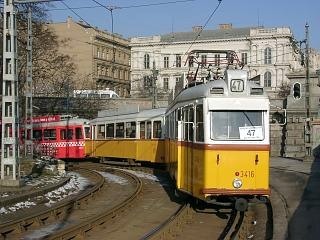 This triple-set has a car with an all-over ad on the front.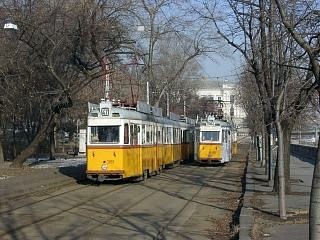 Trams under bare trees.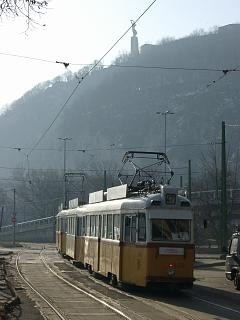 Backlight, overhead wires, but still nice: over the UV triple-set you can see the Statue of Liberty on top of the Gellért Hill. The original statue should have carried a propeller of an airplane (intended as a memorial for the wartime pilots), but after WW2 it was changed to a frond (leaf of a palm tree) in the plans, and that's the way it was built then. Although some political parties said that the statue is connected to the communism, I think it's now a part of the city.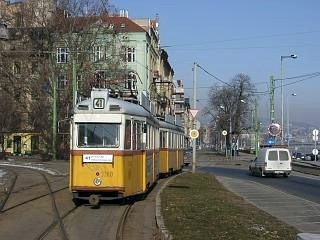 Route 41 at Döbrentei tér.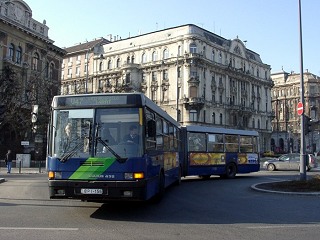 Supplementing bus service for the Small Boulevard trams reversing at Szent Gellért tér.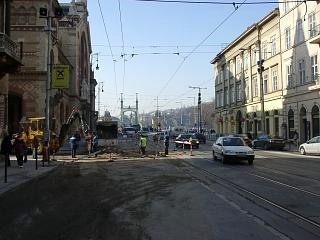 The site of the broken pipe which caused the whole thing. To the left the Great Market Hall, in the background the Liberty Bridge.
More snowy moments: route 56 near Kelemen László utca.
Route 56 on the river wall of the Ördögárok creek.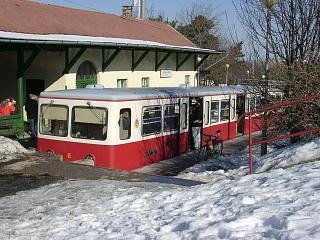 A train of the cogwheel railway at its upper terminus, Széchenyi-hegy.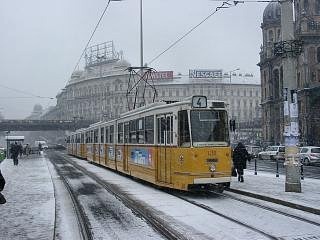 Route 4 at Nyugati station.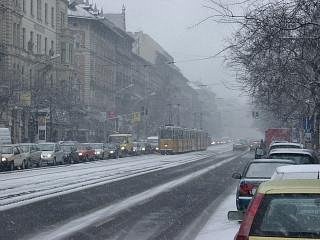 The Grand Boulevard between Nyugati station and Oktogon. The autos are standing in the queue, the tram rattles forward.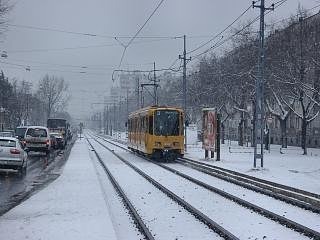 Nagy Lajos király útja in Zugló, in a similar state. Every time when a few centimeters of snow falls, vehicular traffic gets stuck right away, because people somehow forget how to drive a car. This means lots of traffic jams...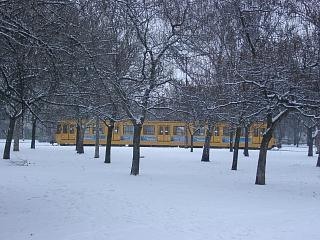 Mézeskalács park, terminus of route 62.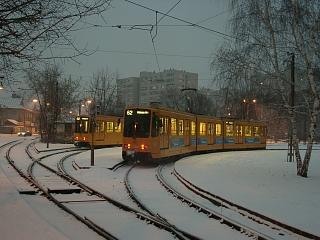 The same location a bit later.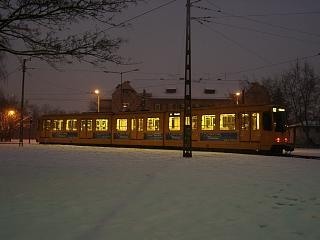 Still the same location, even later. Don't worry, I did not stand there for hours - I met a tram driver friend of mine who had his pause then :-)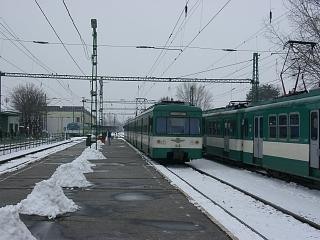 In March I took a ride on the Ráckeve vicinal line to its outer terminus. It's a long ride, and given the condition of the tracks and the low passenger figures, it's a miracle that this line is still there!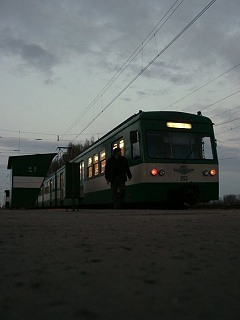 Tököl station, the place until which the service has significant traffic. The part between Tököl and Ráckeve is still in use only because the carbarn is located at the outer terminus...
Next page: Ganz-Solaris trolley buses, a national holiday with trams, and the "giant loop" of Pesterzsébet
---
Back to the top
Back to the main page