"Vienna by rain"... I.
I'd like to thank to Wiener Linien for organising a visit in the Simmering tram depot!
Vienna - again. 12. October, 2002. I arrived here for the sixth time this year, this time with three tram-oriented friends. Originally we wanted to see the central workshop of Wiener Linien (the Vienna transportation company), but as it turned out, it's closed on weekends. So what, we thought, then we're going to take photos of trams in the pale autumn sunshine. Of course it rained all day... :-)
But before we start this (rather moist) journey, a few words about the historical background: I like viennaese trams, and because this it was so strange to see that many Vienna tram-enthusiasts dislike the way the routes are planned and maintained by the city. I guess part of why I like these red-white vehicles is because the public transportation system here has roots very similar to ours. Austria and Hungary was one country (the Austro-Hungarian Empire) at the end of the 19th century, when the tram was born, and at this time there was a big race between Vienna (capital of the well-developed and wealthy Austria, and also the place where the ruler of both countries - emperor of Austria and king of Hungary in one person - lived) and Budapest (capital of the rather underdeveloped Hungary which was known only for its agriculture before). Hungary has just started its way to industrial development then, and at the start it went very fast: Budapest had electric trams and a subway line years before the crown city of Vienna. Then came World War I, the doom of the dual empire, and only after two decades in peace came World War II, which ended with Hungary beaten. Austria was also beaten, but after soviet troops left in the mid-fifties, a free market economy emerged, while Hungary remained a socialist country building up the "Iron Curtain" on its borders to western countries. In Vienna there were big infrastructural developments after the austrian economy started to blossom, while Budapest was stuck with the transportation engineering of the 1950's (until the "subway-mania" came, but as it seems this happened in both the "eastern" and "western" world) . On one hand that's why most people from foreign ("western") places think our trams and public transportation network is so "cute" and/or peaceful, but on the other hand that's also why we're envying Vienna: it shows what our city could have been becoming had there be no "eastern bloc"...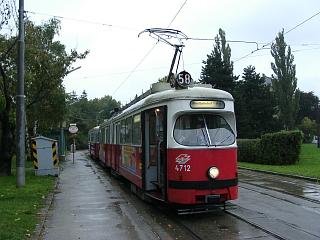 We arrived to Westbahnhof (Vienna West railway station), and there we dedided to take route 58 until its outer terminus, which is a turning loop. The train consisted of an E1 car (number 4712, built by SGP) and...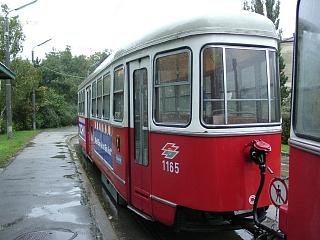 ... a trailer of type c3 (manufactured by Lohner).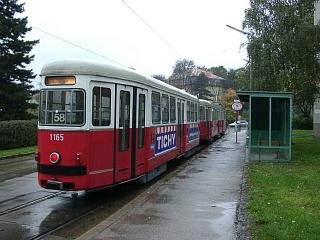 It seems these trailers have a three-piece folding rear door, but only two wings (the 2/3rd of it) can be used by passengers. As Mr. Ludwig Seidl explained to me, back when there was a conductor on the trailer, the door was fully openable . In those time motorcars have also had a three-piece back door, but they were rebuilt so there's no sign of that anymore.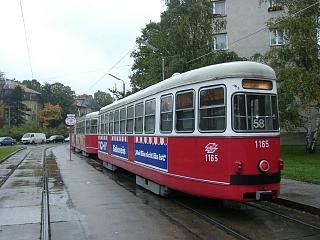 Another shot of the train.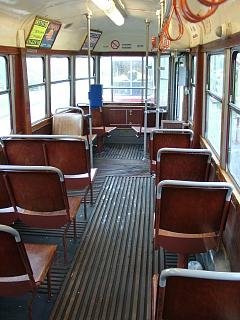 Interior of a trailer, with many wooden parts. This of course reminds me of our UV cars in Budapest - I like wood, it's a much nicer and more natural material than some plastic stuff! I wonder if one day they'll start to build low-floor vehicles with wooden panelling because they realize plastic (or composite) is boring and alienating. I certainly hope so!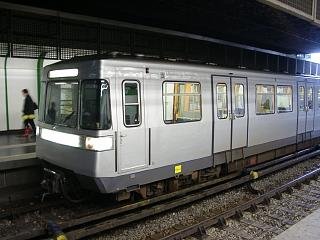 On our ride back we changed to underground line U4 at Hietzing. This part of the subway was built out of the old Stadtbahn (city rail) route in the seventies.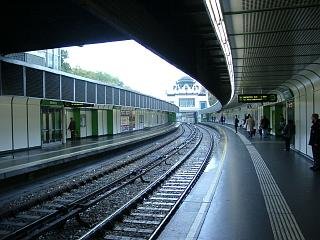 The subway station is quite modern while the pedestrian overpass reminded me of the old K.u.K. ("Kaiser und König" - this is a term referring to the Austro-Hungarian Empire, which has ceased to be in 1918) times!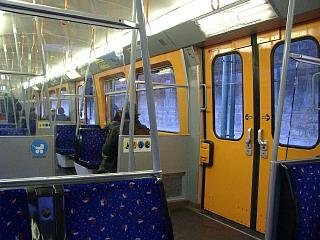 Interior of a U-Bahn (underground) car.
This station was also built for the Stadtbahn in 1898, but now it's used by line U6, which is not really a subway, but a classic form of LRT, built in the 1980's and 90's.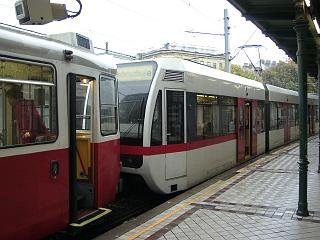 U6 operates with three car types: the E6 (built between 1979 and 89), the c6 trailers and the T-series (build after 1994), which seems to be a relative of the K4000 of Köln and the cars of the Croydon Tramlink. The old and new cars are sometimes running in mixed trains, where there is a low-floor T car in the middle, surrounded by E6's and c6's.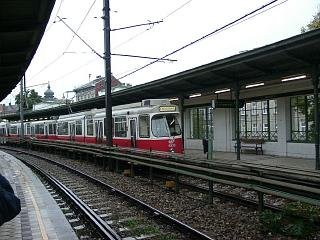 A few words about the Stadtbahn: As I said they started to build it in 1898. Tracks were put on top of viaducts, besides watercourses and the river Vienna, and of course underground too. The system wasn't really popular because of the loose soot coming out of the steam engines they used, and because it wasn't integrated into the transportation network (it belonged to the big railways, not the municipal companies). After WW1 the Stadtbahn was put out of work twice between 1918 and 25. In 1925 the municipal authorities have bought the system from its current owners, and electrified it. After that the topology was truncated a few times, and in the seventies they started to experiment with turning it into part of the underground railway. The result was line U4 (1976-81 IIRC) we just saw a few photos ago. At the end of the eighties came the new concept of LRT, and another parts were converted to the new line U6 after 1989. The route of the original Stadtbahn is now used by different railways: apart from the "normal underground railway" U4 and the "light rail" U6, a part is used by the S-Bahn too.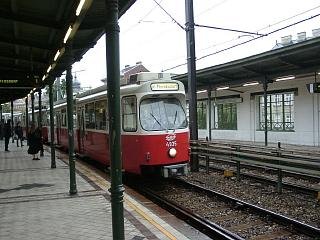 Another E6.
Let's skip: we're now at the Oper, or even more precisely at Kartnerring, where the suburban line of the Wiener Lokalbahn starts.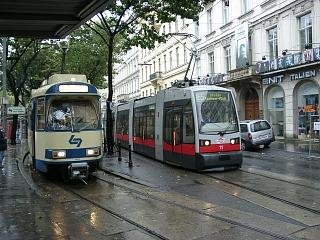 The "mannheimer"-type car of the Wiener Lokalbahn with a "short-ULF" (Ultra Low Floor, A series) tram.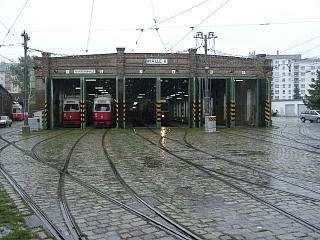 Even if we couldn't get into the central workshop, we were allowed to have a look inside of Betriebshof (depot) Simmering. This is an old and small remise where mostly cars from route 6 and 71 are stored.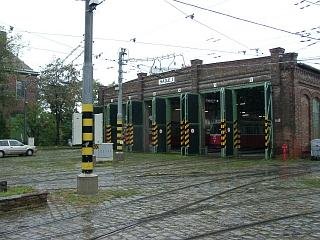 I must say, this looks just like the old remises of Budapest!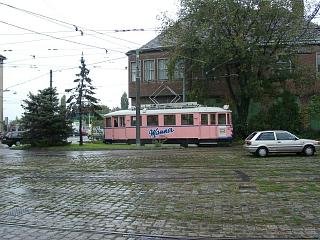 An interesting guest: this 2-axle car - which is not stationed here - was leaving just as we got here, so I could only make this one photo of it...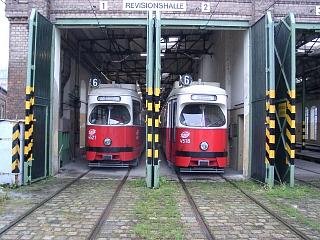 Two old E1-cars. By this time it was raining so heavily that we ran into the remise halls...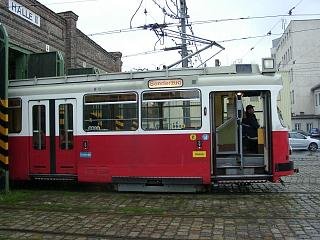 An E2 on the leave.
---
Back to the top
Back to the main page