Autumn visit to Szeged I.
I haven't been to Szeged for months, so I took a day off at the end of November, and travelled there. This town with its city center being constantly renovated and thus getting nicer and nicer from time to time - just like its tram network, which has had a roller-coaster-like history with highs and lows - got close to my heart in the last few years. And after some bad years now they're "escaping forward", with promising results.
For example years ago route 1 was operated with the uncomfortable "Bengáli" two-rooms-and-a-bath-type 4-axle trams and the modern, but small solo Tatra T6A2H cars. But in the last years, with the introduction of more comfortable vehicles and double-set units, like the one on the picture (taken in Boldogasszony sugárút) there are more and more passengers on the trams, even more than before!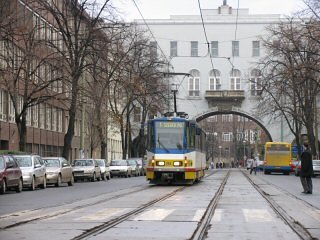 Of course the exclusion of the "Bengális" from this line and the introduction of double units was only possible because of the Tatra KT4D trams bought from Potsdam...
... because there were not enough T6A2H in the fleet. (This photo was taken at Hősök kapuja - the Hero's Gate).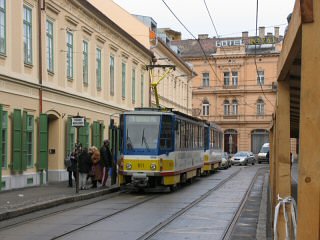 Of course there are still solo courses on route 1, but the change in quality and quantity of service is even so more appealing for passengers. Of course you have to know that Szeged is a "university and school town", so traffic outside of school days (holidays, weekends, etc) is not as strong. Hence public transport services and the whole city has its own pace and pecularities, a bit different to industrial towns.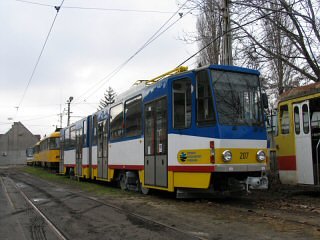 Thanks to the kind people at SZKT Kft. (the public transit company operating the trams and trolley buses of Szeged), I had the possibility to take a peek into the tram depot. Here you can see one of the KT4 cars, number 207 bought from Cottbus in Germany...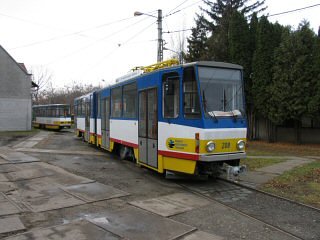 ... and here's number 208. They were converted and modernised partly in Prague and in Szeged. Originally they had meter-gauge bogies, now they have normal-gauge ones, but the changes are more thorough.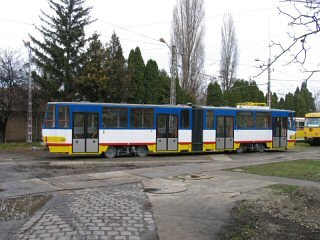 From outside the round headlights and the doors differentiate these cars from the ex-Potsdam ones.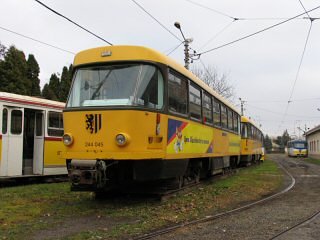 Two Tatra T4 cars bought from Dresden. Originally it was planned that they build one or two works cars out of them, but this project has been postponed recently.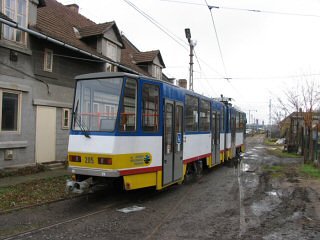 KT4D number 205 (ex-Potsdam) in the back yard.
Two ex-Rostock Tatra B6A2 trailer cars were in the workshops. They will be converted into powered trailers ("drones", so motorised cars without a proper driving cab) to work together with the T6A2H cars, leaving more of that type for the other routes.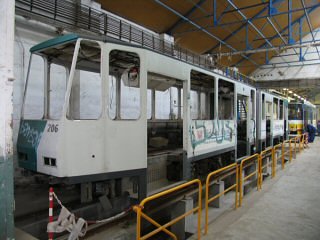 Ex-Postdam 206 will be also modernised soon, to have enough modern cars to replace as many Bengális as possible.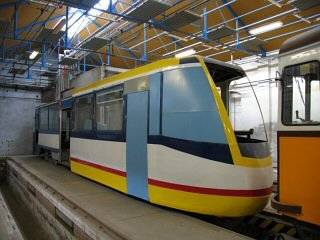 A mock-up of an idea to build long articulated trams out of single Tatras. As far as I know, this project has also been postponed: the city plans to get capital for new, really modern (low-floor) trams through the EU Cohesion Funds instead.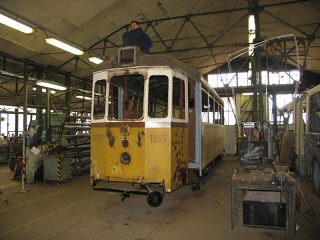 And now for something completely different: an old tram from Budapest, still in the Szeged workshops. Number 1055 was originally bought by the company BKVT in 1912, and withdrawn by the BKV in 1984, so this car has seen a lot of 20th century history!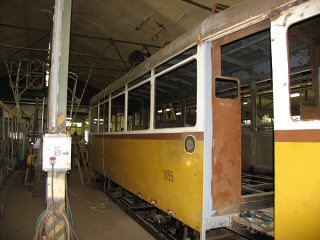 It was bought from Budapest a few months ago: a local enterpreneur wants to use it as a coffee-room on some abandoned tram tracks near Dugonics tér (in Somogyi utca). By the way, this is my favorite type, and part of my childhood memories - fortunately six other cars of this type are still preserved in Budapest, among them two in the Szentendre Tram and Vicinal Museum.
Next page: new reversing facilities and more trams
---
Back to the top
Back to the main page