Snow, buses and some rails: Pécs
Contrary to most journey reports on this website, this one introduces you a city that doesn't have a tram. At least not anymore - since 1960.
Pécs (pronounced "paetch") is a lovely historic city in Southern Hungary. Once an ancient roman settlement in the province of Pannonia, later the site of the first hungarian university, it's currently known for its almost-mediterranean spirit and its rich cultural life. In 2010 it will be one of the cultural capitals of the European Union - and apart from that, it's my favorite city in Hungary after Budapest :)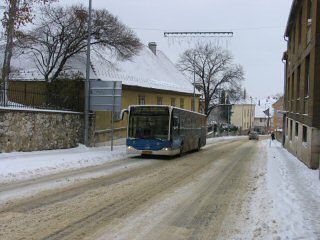 We didn't see anything of a mediterranean mood in December 2005, of course :)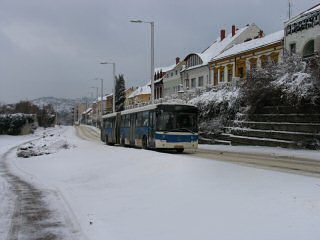 The snowfall got quite stormy sometimes, and the streets were almost empty...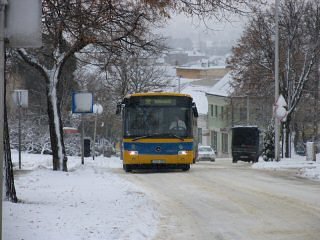 ... but buses ran normally, on schedule. Most of the old parts of Pécs are located on a hillside, which always reminded me of Buda, the part of Budapest, where I grew up.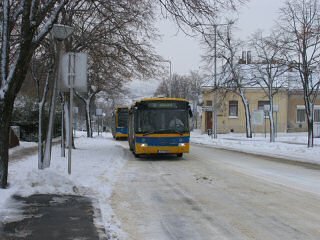 Convoy in ascent: a Conecto...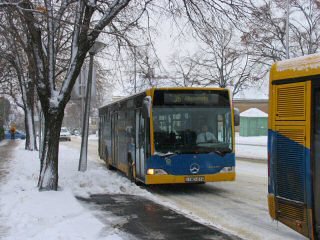 ... and a Citaro. I don't really like buses, but they were providing a nice and comfortable service here.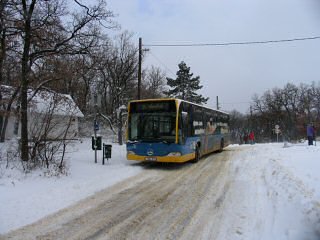 Originally we wanted to go up to the hilltop called Misinatető, which rules the landscape with its huge television tower, but our bus did not go all the way up there. So we ended up at Dömörkapu, also the terminus of a short narrow-gauge children railway.
And we didn't have luck afterwards: the Zoo - also located on the hillside - was also closed, so we went back to the city by taking another bus.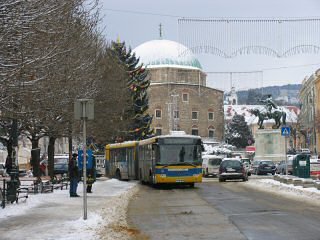 This is Széchenyi tér, the main square of Pécs. Behind the Conecto articulated bus you can see an old ottoman (turkish) mosque, which was built when the Ottoman Empire ruled one third of Hungary in the 16th and 17th century.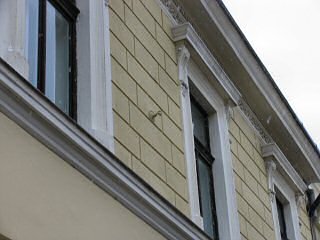 "Lost rails" is a favorite hobby of mine, so I looked for some remnants of the tramway, and found a few hooks in the walls, originally used for sustaining the overhead wire.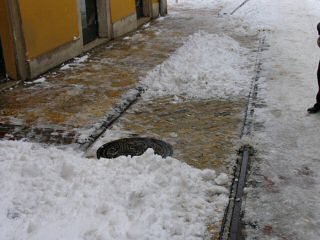 A stylish memento of the tram can be found at Jókai tér, where they re-laid a few meters of tracks into the pavement in 2000.
Pécs is a wonderful place even without trams, but imagine if it would still be there! It would be marvelous I think! By the way, I heard the city council was considering guided buses or a "tram-en-tyre" operation a few years ago - maybe this idea will turn into a new tramway network someday!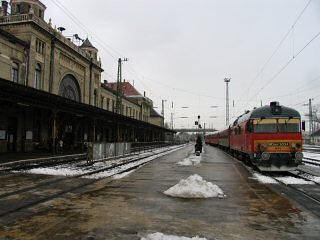 I end this short report with a picture taken at the main railway station, which is also a nice historic building.
I must say, I love this town!
---
Back to the top
Back to the main page