A short visit to Košice (Slovakia) in 2005
[Click here for the german version][Click here for the hungarian version]
Košice, a historic town in Eastern Slovakia, close to the hungarian border, ist one of the two slovakian cities with a tram network (the other is the capital, Bratislava). It's only 1.5 hours from Miskolc with the train, so I payed a short visit there with my friends on a nice spring weekend.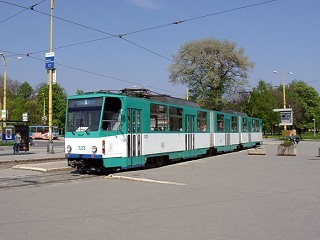 We had a lovely sunshine, so I started to take photos right away in front of the main train station. This is a Tatra KT8D5 - note that this type is bidirectional, while the other vehicles are unidirectional.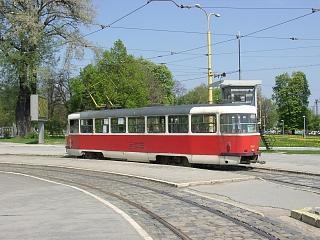 Tatra T3 in the reversing loop at the station.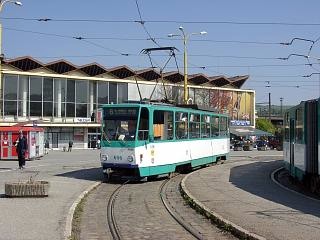 The T6A5 is a more modern tram. Both 4-axle types are used in double-sets and solo.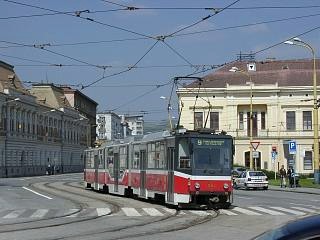 This KT8D5 with a low-floor middle section (KT8D5.RN2) came as a surprise to me.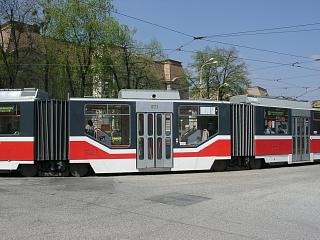 Apparently they have 3 such cars (512, 517, 521), converted by ČKD Pragoimpex out of normal KT8D5 articulated trams.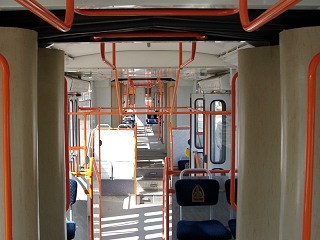 The middle section is quite nice: because this type is wide (2500 mm), it feels spacious, unlike some other types with a retrofitted low-floor section.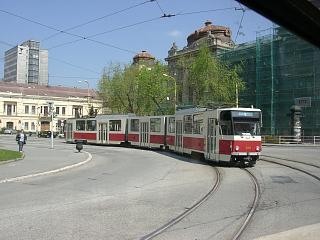 A "normal" KT8D5 in the bend...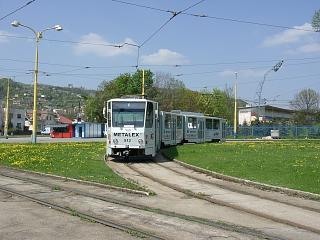 ... and another one as reserve at the stadium.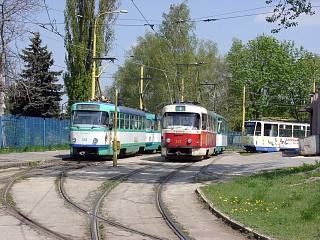 The joint terminus of route 4 and 9 was full with trams, providing a good photo opportunity.
Although I don't really like the Tatra T3, this one looked quite allright with its traditional livery in the sunshine!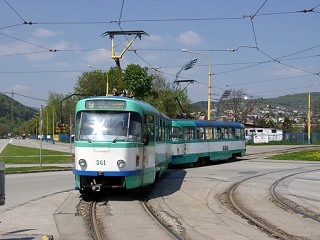 This T3 double-set has a modern passenger information system.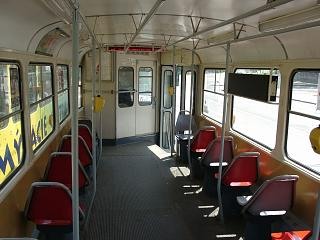 Its interior however is pretty much the same as the original.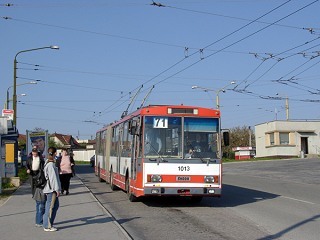 The city also has a trolley bus system, with single and articulated Skoda vehicles. The lines 71 and 72 run up to the hillside above the town, via some steep streets.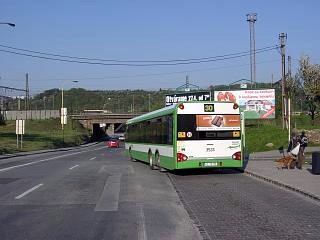 You can also see 3-axle 15-meter-long Solaris buses around.
Of course, if you're there, don't forget to visit the historic town center - after all it's not just trolleys and trams :-)