Budapest tram snapshots 1.
Summer and autumn "tramscapes" from the year 2004, starting in June...
Temporary shortening of route 47 and 49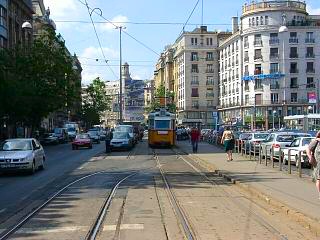 Due to the modernisation of the M2 subway line tram lines 47 and 49 had had to be shortened, so that the subway-supplementing bus service could use the tram's private right-of-way between Astoria and Deák Ferenc tér.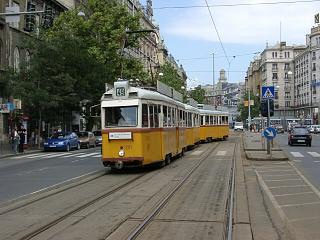 The trams received a stub terminus with a temporary crossover to the other track.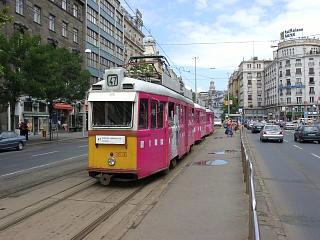 About this time Budapest saw its first all-over-ad UV-triple-set in its tram history. One side of the UV motor+trailer+motor set was pink (magenta)...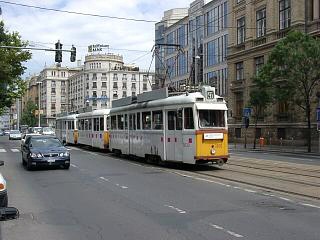 ... the other was white. The nose remained yellow. Ten years ago or so we've had fully decorated trams, but nowadays the front and rear parts of each tramcar must retain their original color.

Renovated car of the Svábhegy Cogwheel Railway
The cogwheel railway was 130 years old this year (2004), but it also had another anniversary: the line was electrified 75 years ago. To celebrate this event, BKV renovated the 75-year-old loco+passenger car set 30+40.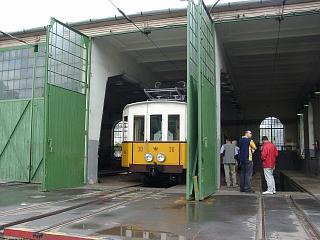 The train was not (yet) meant for riding the line: back in its heydays the nominal voltage was 600 volts DC, while currently it's 1500 volts. Fortunately BKV is thinking about equipping the loco with a downchopper (or inverter) to make it run under today's conditions.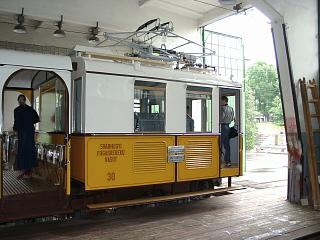 These locos were built on a licence of the famous swiss company SLM. The first two locos were built by them, the rest by Ganz in Budapest.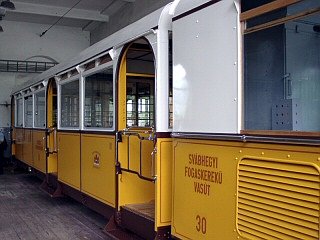 Here you can see the permanently coupled Rowan trailer (passenger) car number 40.

An important day for me was when the 2-axle tramcar number 2624 returned from Amsterdam.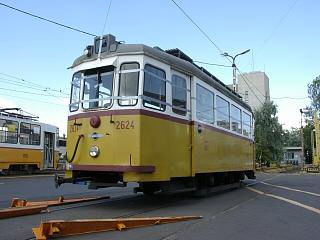 The car was built in 1906 by Schlick-Nicholson of Budapest for the tram company BVVV. The wooden frame body was replaced by a steel-frame one in 1959.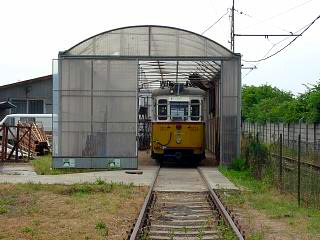 The car remained in service until 1981, but it wasn't scrapped after that, because a tram enthusiast from The Netherlands bough it.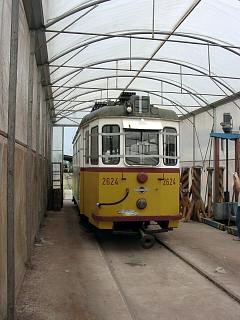 It was used as a tourist/charter tram in Amsterdam, until it was stopped due to some technical failure. In 2003 a number of hungarian tram enthusiasts - including your's truly - decided to bring the car back home. We tried different approaches, and finally we were able to convince BKV to "re-adopt" the car and transport it back to Budapest. The current owner of the car agreeded to donate the tram to the BKV, and after a few months of hectic organisation, the car arrived the BKV's central workshop at Fehér út.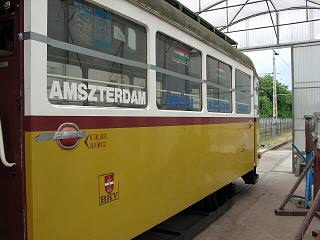 "Amsterdam greets Budapest" - boy, was it a great feeling to see this car home at last! Our next goal now is to make the car usable again, and to use it on regular heritage rides (because there!s no regular historic tram service in Budapest, nor a sightseeing one).

Our historic association V.T.T.E. (Városi Tömegközlekedés Történeti Egyesület) organised a couple of free rides along route 24 upon the idea of my good friend and fellow member Mr. Illés Fodor.
The occasion was the 100th anniverary of trams in Haller utca.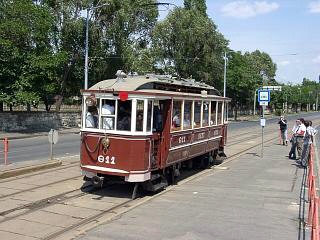 Our vehicle was the heritage car number 611, and as you can see, we've had a full house.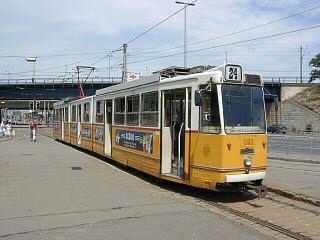 Number 1303, the first Ganz articulated tramcar featuring a chopper, at route 24's terminus at Közvágóhíd.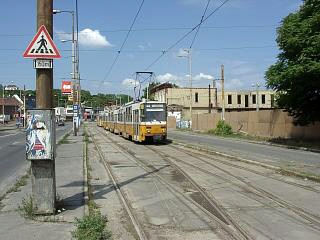 T5C5 triple set as reserve for route 1 in front of what once was Remise Óbuda.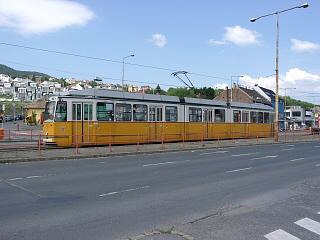 This summer route 17 was operated with modernised Ganz articulated cars, the so-called KCSV7's. Here we can see one such car at the Bécsi út terminus...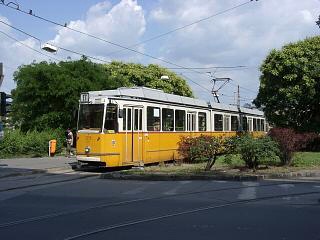 ... and then here at the inner terminus next to Margarite Bridge (Margit híd).
A leap forward in time: "normal" Ganz cars (type CSMG2) returned to the line in autumn.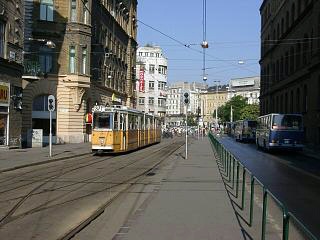 Sunny morning in Népszínház utca, terminus of route 28 and 37/37A.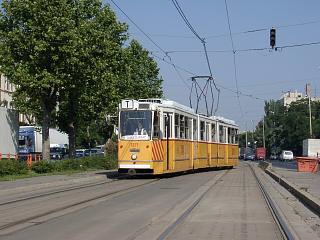 Training vehicle number 7671 in Hungária körút using the crossover near Thököly út.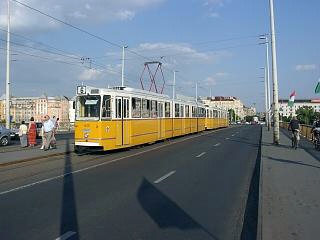 Ganz CSMG2 double-set on the Margarite Bridge. More and more Ganz cars are receiving new side-wise sliding windows instead of the old one which goes up and down, and this is a good thing, because the old windows get stuck quite easily.
---
Back to the top
Back to the main page