Budapest tram snapshots I.
October, November and December, 2003.
Here you can find seventy-something pictures taken during the last three months of 2003, sometimes with personal comments.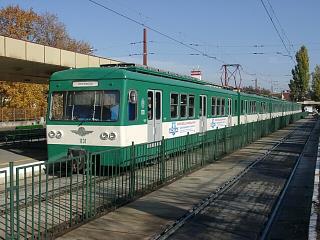 I don't take many photos of HÉV (suburban commuter railway) trains, but let this page be the witness of an exception. This is an M XA ("M ten A") long-train headed by number 1131 at Szentendre station.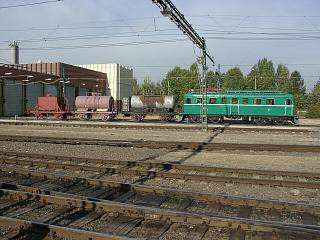 Oldtimer freight train consisting of three 2-axle tank wagons and an EMU of type L VII acting as locomotive. The L VII series was built during the second world war, and because of its bulkiness it got nicknamed "Tiger" after the german tank. Seven such locos are still in use as works cars.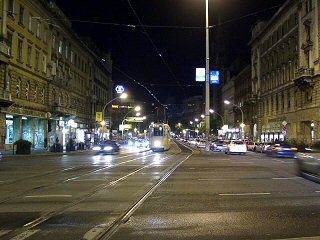 Night shot of route 6, taken at Blaha Lujza tér.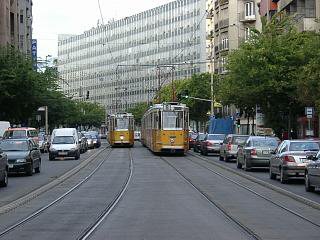 Ganz CSMG2 double-sets of route 4 and 6 meet in Margit körút.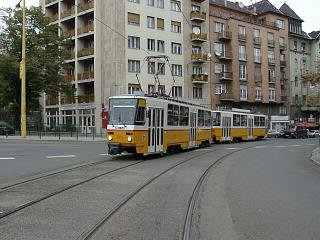 Modernized Tatra T5C5 double-set on route 59 at Nagyenyed utca/Böszörményi út.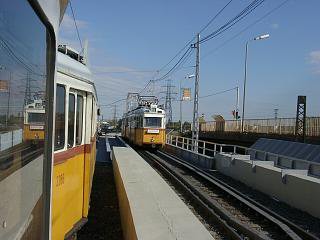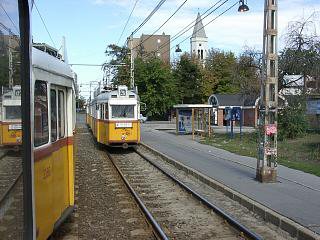 Two pictures taken along route 47 in Budafok.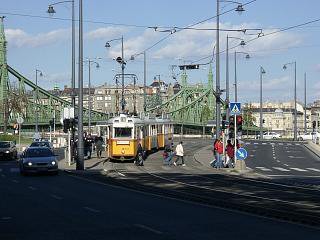 Szent Gellért tér with the Szabadság híd (Liberty bridge) in the background.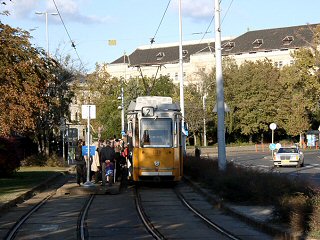 Between 9. and 12. of October route 2 was shortened to Kossuth Lajos tér...
... because its northern terminus at Jászai Mari tér was renovated.
Tatra T5C5 double-set at the northern corner of Moszkva tér.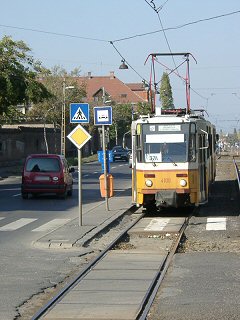 Another T5C5 set, jumping in on route 37A to replace a broken Ganz CSMG2 articulated car.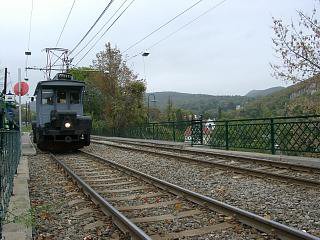 Snow-sweeper number 7123 doing driving-school on route 56 (photographed at Nagyhíd).
Another snow-sweeper: number 7140 in the Gubacsi út reversing loop (used by route 3).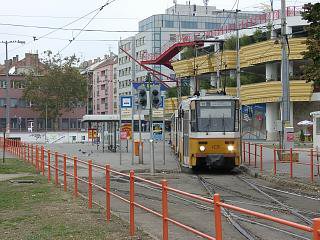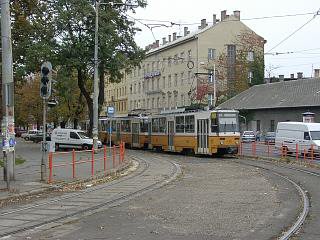 T5C5 triple-set on route 14 leaving the southern terminus Lehel tér.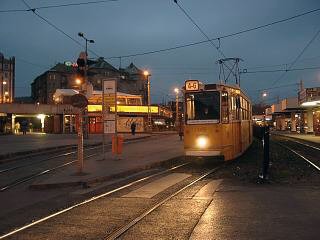 Between October 20th and December 6th the southern terminus of route 4 (Fehérvári út) was rebuilt. During the construction works, the Grand Boulevard tram lines were merged into route "4-6".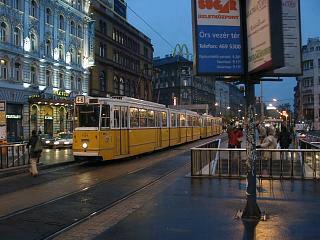 Another Ganz double-set on "route minus two" in the pouring rain at Blaha Lujza tér.
Haller utca was also rebuilt this year, with private right-of-way tracks...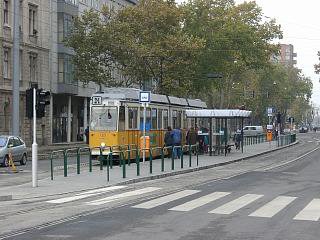 ... and new stops.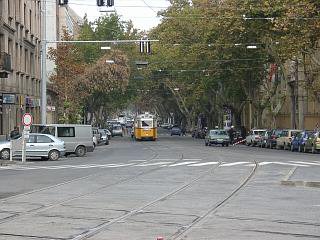 UV double-set on route 30. This line is served with Ganz CSMG2's, but there are two rounds every day which are done by a UV set coming from route 52.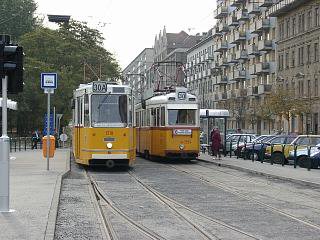 Mester utca/Haller utca.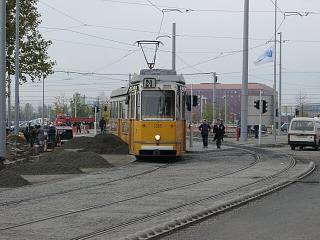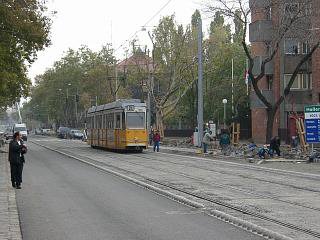 The Haller utca tracks are used by route 24 (and the depot rides of route 2 and 2A).
Next page: accident in the underpass, route 41 extended, and much more
---
Back to the top
Back to the main page