Tram-parade in Amsterdam I.
The dutch railway enthusiast society NVBS celebrated its 75 anniversary in 2006. As a big birthday party, they organised a huuuuuge tram parade in Amsterdam on June 11. 2006, with new and old trams both from other dutch towns and partner associations from Belgium, Danmark and Germany. I had had to be there!
In the middle of the day, the participating trams were doing special rides in the city between Surinameplein, and Sloterdijk. The Amsterdam urban transit company GVA took part with a double-set Combino unit. These trams are normally used in single units.
The highlights were of course not the new, but the old vehicles. Here you can see an oldtimer set from Rotterdam (RET 522+1020 from 1931), and the Viennese set 4143+5312, from 1929. It was quite a sight to see such historical vehicles next to each other. And that so far from their home-towns!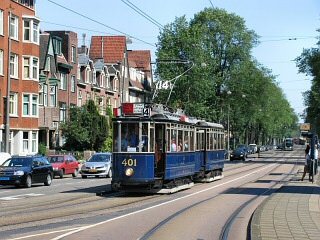 A typical blue Amsterdam tram from 1929: number 401 and 916.
And behind the oldtimer a new low-floor tram: an Alstom Citadis from Rotterdam.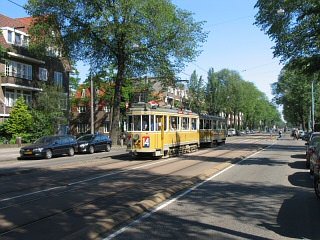 The danish tram museum, located in Skjoldenaesholm (how does one spell that?) has sent the Coppenhagen set 575+1578 (built in 1935) to take part in the festivities.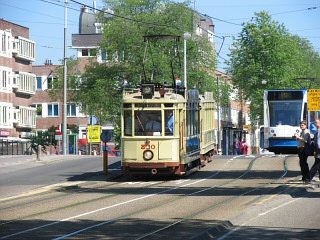 Number 830 and 756 from The Hague on one of those typical ship-canal ("gracht") bridges.
A Siemens NF8 low-floor tram from Düsseldorf.
Number 5008 from Bruxelles in the company of an old Citroen van.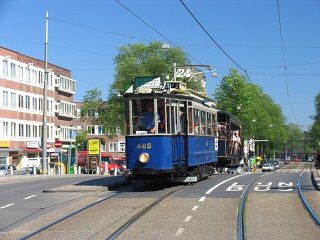 Another old Amsterdam tram, number 465...
... towing the open trailer car - a replica - number 600.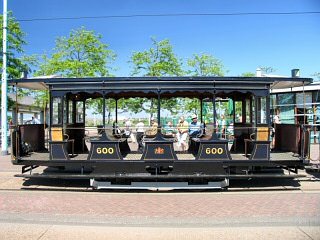 Unfortunately we didn't had time to ride this one :( There was just way too much to see and to photograph on this day!
The Düsseldorf NF8 at Sloterdijk.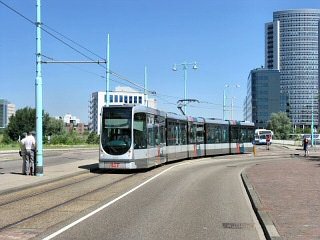 The Rotterdam Citadis in front of the same background.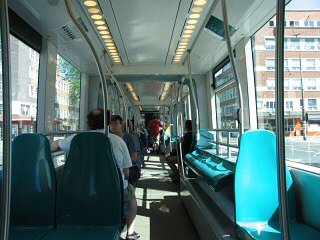 An interior view of the space-age-plastic Citadis. Not really my taste, especially in contrast to some other participating trams :)
A short video of riding with the car.
Number 181+1023 of Hannover origin came from the Wehmingen tram museum.
A replica from Arnhem: GETA number 76.
A real classic: PCC tram number 1024 from The Hague, built in 1949.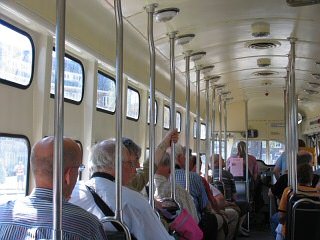 This was my first ride on a PCC tram with classic "standee windows". What really has striked me was the sound of the vehicle: it was pretty much the same as on the Tatra T5C5 trams of Budapest. I never thought so little was changed in the mechanical construction!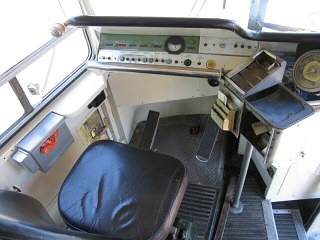 The driver's cab of the PCC, with the accelerator foot switch.
Next page: more special trams in the city and on the museum line
---
Back to the top
Back to the main page