Trams of Graz, Austria
I visited Graz on a holiday trip in June, 2002. This was my second visit here, with the first taking place 13 years ago. I remembered that Graz had nice trams, and wanted to take photos of them, but I didn't had my digital camera with me. There was not much left to do - I used my girlfriend's camera, and consumed one and a half reels of film in one hour. The photos are not as good as usual (if I may say so), but I think they show the character of this nice city and their trams!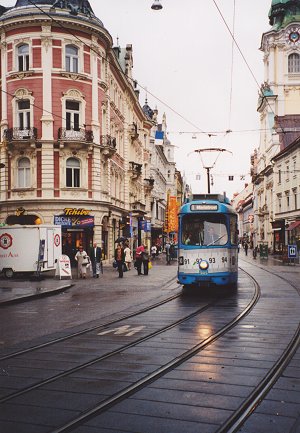 An articulated tram in the main shopping street Herrengasse. Notice the playful all-over ad!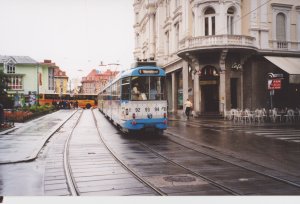 The vehicle is articulated car number 505, manufactured by SGP in 1978.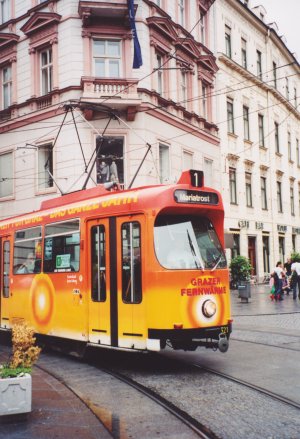 This type is closely related to the E2-series of Vienna.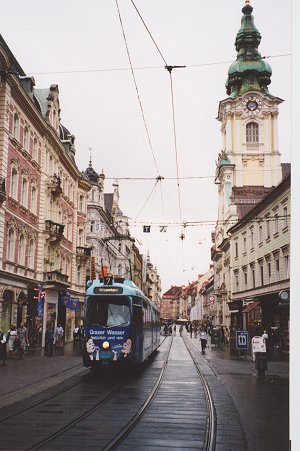 Number 525 is of a more interesting origin: it was built for Duisburg, but then it was sold to Graz in the seventies.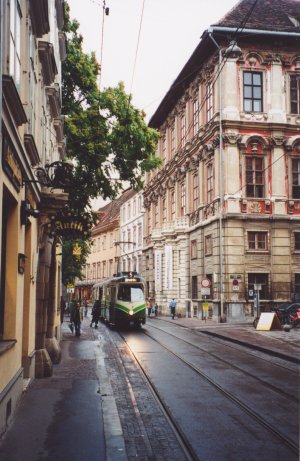 Number 526 on route 5. As you can see on the wet pavement, it had rained. I did not know then that this was just the beginning of a series: during the following months I got soaking wet while taking photos of trams in Milan, Cologne, Munich and Vienna :-)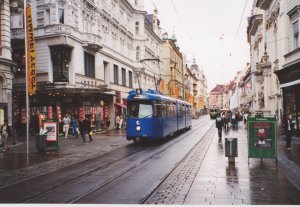 Number 530 in Herrengasse.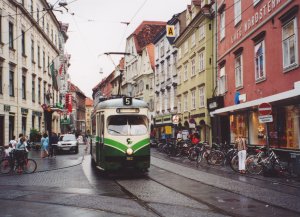 Number 582 was originally a six-axle car, but then it was rebuilt with a new middle part, which made it an eight-axler. By the way, this is the official livery of Graz transportation company GVB.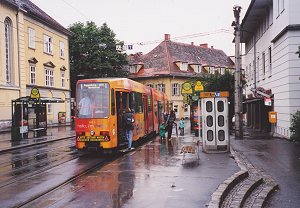 A car from the 600-series, with a low-floor middle section refitted by Bombardier. They were originally built by SGP around 1986.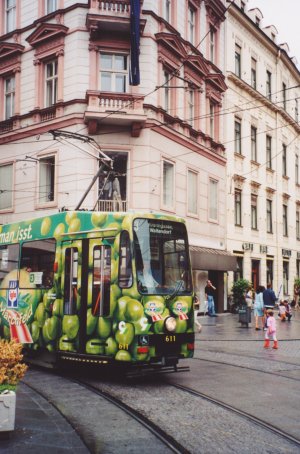 Another funny all-over ad. The trams of Graz are the most colorful bunch of vehicles I ever saw :-)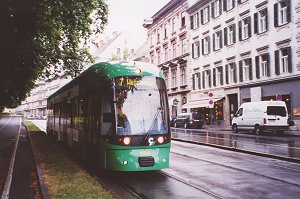 The newest in the Graz tram fleet: a Cityrunner from Bombardier.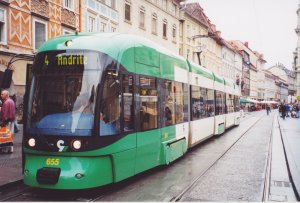 I think this is the nicest modern-looking tram with its rounded surfaces!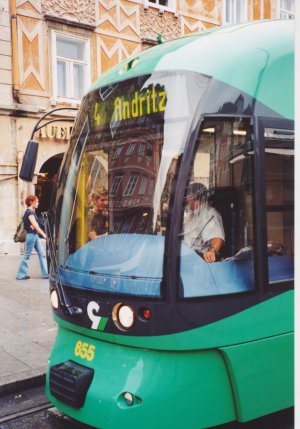 The front...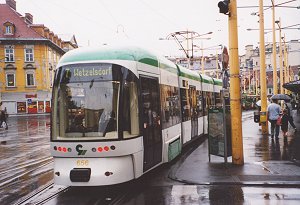 ... and rear end of this unidirectional low-floor vehicle.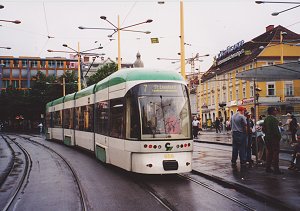 Another shot of the same subject.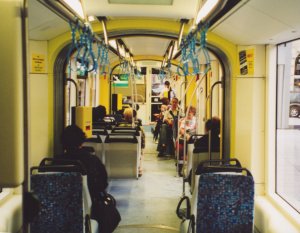 The interior resembles old austrian and german types with rounded ceiling and articulation tunnel. The usage of bright and pastell colors is also interesting!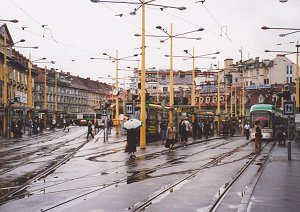 Jakominiplatz, heart of the tram network with tracks coming in from several directions.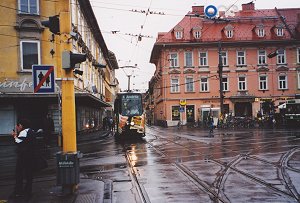 A 600-series car entering the square.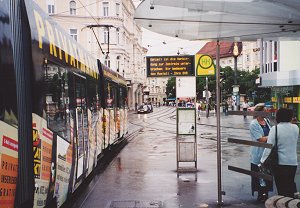 The visual passenger information system was broken during our visit, and displayed only an error message and an excuse...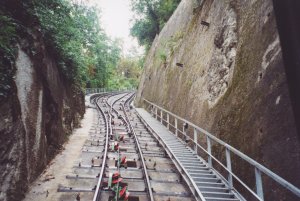 Graz also operates a funicular (Schlossbergbahn) riding from the inner city to the top of the Castle Hill. One important thing about it: it's not trivial to find the lower terminus, it's hidden between the houses...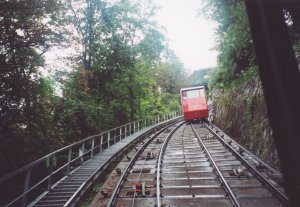 The by-pass at halfway. While not a tram, this transportation method is also something to try!
And that's all, we only had two and a half hours before we continued our (tram-less) holiday journey...
---
Back to the top
Back to the main page