Budapest tram snapshots September-October 2006 III.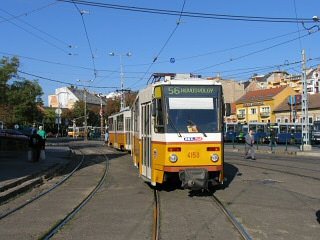 "Oops - again" at Moszkva tér...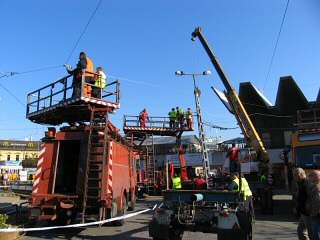 ... in form of an overhead post almost coming down.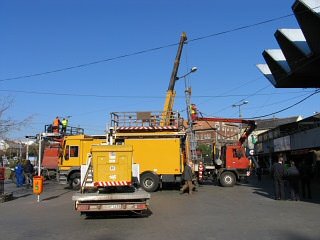 The post was only held up by the wires!
Same day, more annoyance...
... when the magnetic track brakes of this UV motorcar were stuck in the down position at Kanizsai utca. See and hear it as it tries to move forward to clear the double-skip - awful :(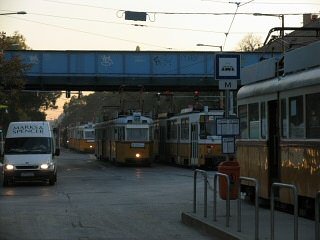 The result of the crippled tram paralyzing the terminus.
This will soon be over: the last day of operation of UVs on route 19 should be November 12.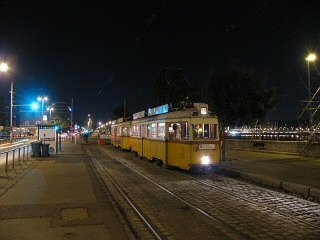 Two photos of the Batthyány tér terminus, taken....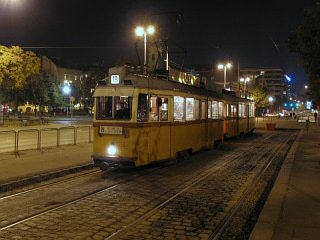 ... without a tripod. I tried to take as much photos of UVs here, as possible.
Another big leap in space: route 14 in Káposztásmegyer.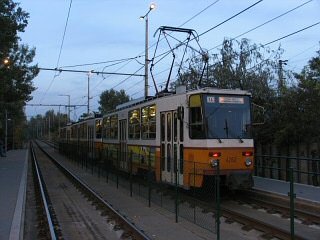 The stop Atlétikai stadion is new, it was opened this year. By the way, this section of route 14 was built for the metro line M3, but since it wasn't extended over Újpest, Városközpont, it's used by trams.
Sunset at the terminus Megyeri út.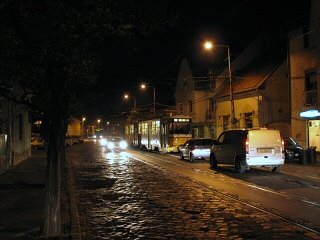 Trams and old cobblestones: route 12 in Görgey Artúr utca.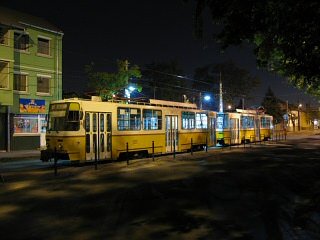 A silent night at the terminus of this service, Kossuth utca.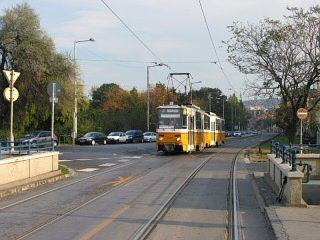 Also a Tatra double-set, but on the Buda side: route 18 at Déli pályaudvar.
As I mentioned earlier, UVs are nowadays more often used for special rides than earlier. To celebrate and propagate the memory of the 1956 Revolution, a UV triple-set was clothed into a commemorative outfit.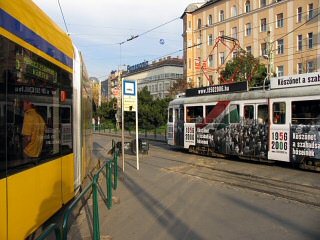 Combino and the "Revolution Tram"...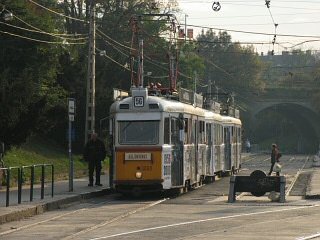 ... at Moszkva tér.
During a late evening photo-walk I took several pictures along the Grand Boulevard...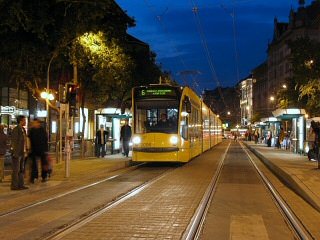 ... for example of these Combinos at Wesselényi utca...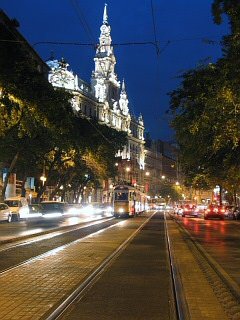 ... or the Revolution Tram in front of the New York Palace...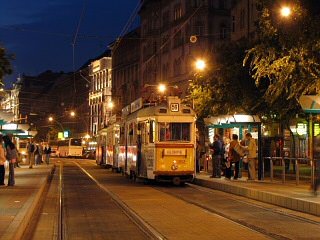 ... , and in the Wesselényi utca stop...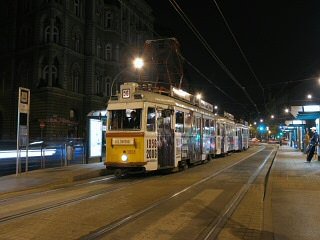 ... and at Rákóczi tér.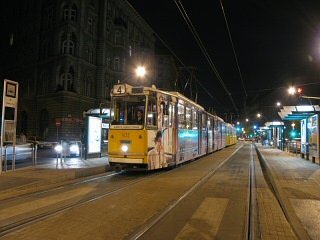 The same location with a Ganz artic...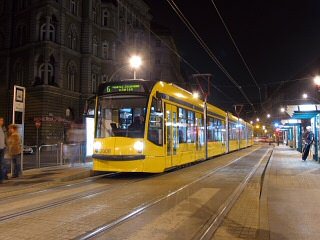 ... and a Combino Budapest (also dubbed Combino Plus or Combino Supra)..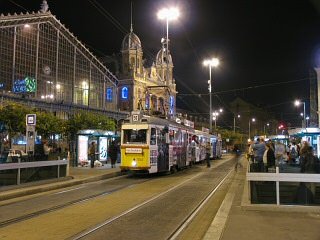 One of the all-time favorite tramspotting locations: Revolution Tram...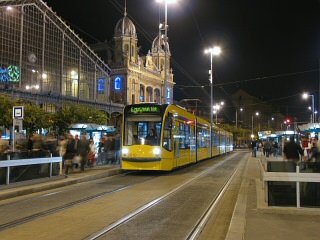 ... Combino...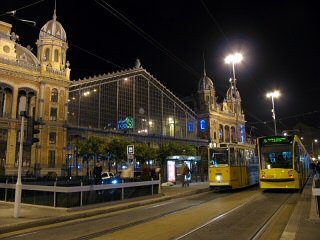 ... and Ganz articulated in front of Nyugati pályaudvar at Nyugati tér.
A few days later, in the morning: a Muki...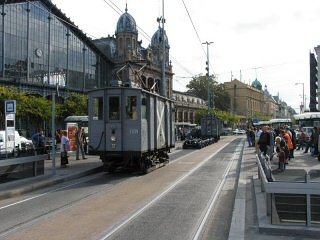 ... no: two Mukis at the same place!
They were doing a truck transport between depots.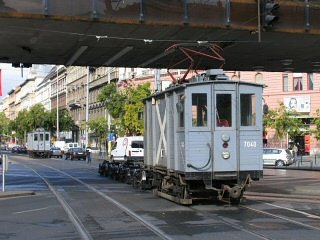 Nice to see these old wooden-bodied beasts! :)
And I'd like to end this pictorial with more Combinos: one waiting at Moszkva tér...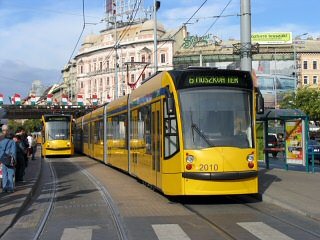 ... and two meeting at Nyugati.
I hope you enjoyed these pages!
---
Back to the top
Back to the main page