Budapest tram snapshots III.
October, November and December, 2003.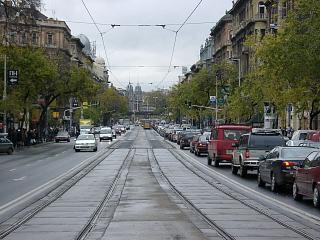 The northern semicircle of the Grand Boulevard was paralysed on the morning of November 7th, because a fire broke out in the pedestrian underpass at Nyugati tér. Authorities have blocked all passing traffic for a few hours.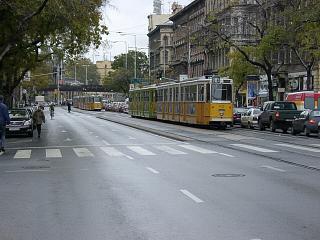 Ganz CSMG2 double-sets queuing in Szent István körút.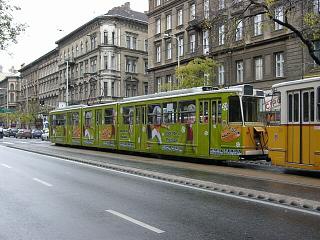 One of the cars wearing an almost all-over ad.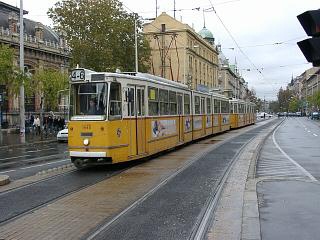 A blocked tram on the south-east end of Nyugati tér. Traffic on the remaining section of the Boulevard, between Oktogon and Móricz Zsigmond körtér, was maintained, because of the existance of a crossover between Nyugati tér and Oktogon. But of course that did not cheer up people on this side!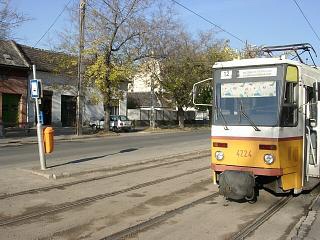 Two pictures of route 12 at Rákospalota, without apropos...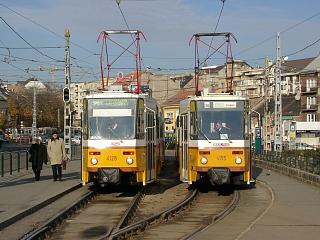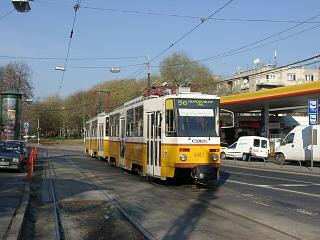 Route 56 is slowly being filled up with modernized T5C5K cars instead of the normal T5C5's. The refurbished cars can be identified by the matrix destination display above the windshield. Locations: Moszkva tér and Budagyöngye.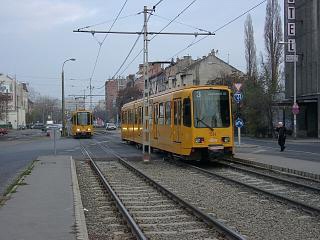 TW6000's in Zugló (Nagy Lajos király útja).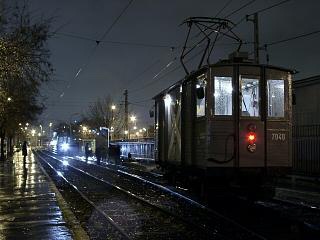 One of the most interesting events in November was the transportation of MillFAV ("shallow" subway or "földalatti" as we call it) cars from the MillFAV depot to the Fehér út workshops.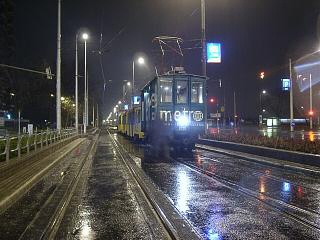 The low-profile articulated subway cars were towed by Mukis over the tracks of route 3 and 62.
Now let's see a few photos of the Grand Boulevard: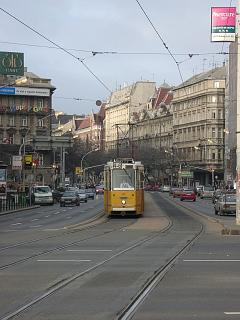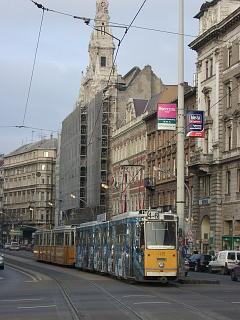 Blaha Lujza tér.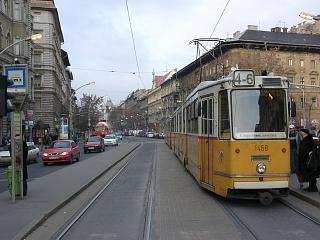 Rákóczi tér.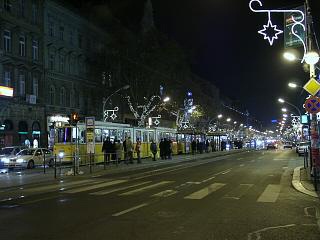 Oktogon with Christmas lights.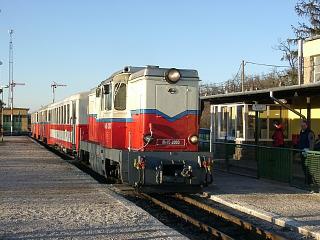 The Children's Railway (originally Pioneer's Railway) is a narrow-gauge (760 mm) tourist attraction making its way through the Buda hills. Here: a three-car train at the Széchenyi hegy terminus, towed by an Mk45 diesel loco. Although I rarely take photos of this sylvan railway, it's always a pleasure to ride on it!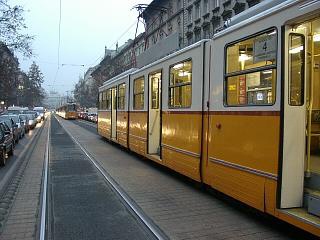 Let's conclude this long-play pictorial with another traffic jam on the Grand Boulevard.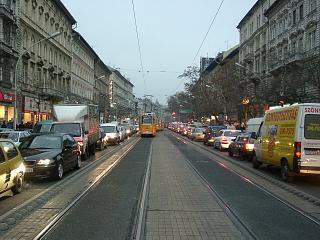 The northern semi-circle of the Boulevard routes was blocked by an accident, so the crossover at Oktogon was utilized again for reversals. This of course wasn't very pleasing in the middle of the christmas shopping rush!
---
Back to the top
Back to the main page