On the old photo: the stop at Erzsébet királyné útja. In the background you can see the rear entrance of the Hungexpo site.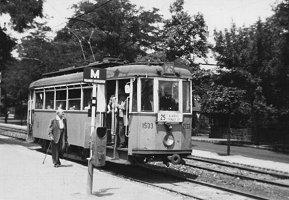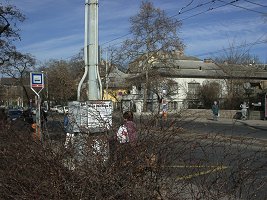 Archive photo: Vittorio Formigiari
The stop of the opposite direction.
The remains of an old overhead support next to a newer one.
The crossing of Koós Károly sétány with a UV car pushing (!) a mid-entrance trailer car on the wrong track (!). I'm not sure why they did this, but this was a special freight ride, because UV's were not used in traffic with trailers like this. You can also see auxiliary personnel assisting the reversing: someone is leaning out of the door of the trailer, piloting the driver of the motorcar, probably using whistle signs.
Some leftover supports in Vidámpark (amusement park).
To the left: a 3600-series car on Állatkerti körút, in front of what is now called Fővárosi Nagycirkusz (Budapest Grand Circus). To the right: Állatkerti körút seen from above: you can make out the tracks in the middle of the road. The building in the background is Széchenyi Fürdő.
The turning loop was located between Széchenyi Fürdő and the terminus of the Milleneum Underground Line. On the picture to the left you can see the tram line (marked with an "e") coming in through Állatkerti körút. The crossed line is the surface section of the subway, the line marked with a "d" is where it now goes (underground of course). To the right: the loop was near to the small rear entrance of the Zoo, and this makes me wonder why it was called "terminus Zoo": it was much closer to Széchenyi Fürdő, while the terminus of the underground line, located nearer to the Zoo, was called "Széchenyi Fürdő"! It doesn't make any sense at all!
In the middle of the loop there was a lodge for tram personnel. This small building is still there, but you can hardly see it...
Different car types in the loop: an 1800-series (later rebuilt to 1700-series twins), a 3600-series and an 1500-series car.
The loop was connected to the underground line and so with depot Dózsa and Dózsa György út via Állatkerti körút, this is the single line going to the right on the scheme to the right above. On the map to the left (made in 1937) you can see the tram turning loop in the upper right corner, and the stub terminus of the underground line next to it. There is no track between the two service yet, it was built out later. To the right: the scheme of the loop terminus from 1952.
---
Back to the top
Back to the main page