Send-off party for the classic D▄WAG articulated trams of Cologne
Cologne (K÷ln) is one of my favorite cities outside of Hungary. My mother used to live and work here, so I spent much time in the city, famous for its cathedral and of course the Eau-de-Cologne perfume. Apart from named cathedral, I've always been fascinated by the large, round articulated trams running here, too. I did not know much about them for a while: that the first ones have started their lives in 1963 as six-axle, single-articulated vehicles that were later extended into eight-axle, double-articulated trams, that they were called "A5", where the A stood for "Achtachser" (eigh-axle), and the 5 for five doors - or that they were indeed larger than the other D▄WAG trams with the similar "round" design. Because I started to take tram photos quite late, I don't have many pictures of them, just a few from 2002, and from 2005.
In 2006, their end came: they were used for a couple of times during the Soccer World Championship, then they were withdrawn. But local tram enthusiasts had not accepted this without having a chance to say farewell to their beloved trams. As soon as I heard from the date, July 22, I knew I have to be there.
And there I was (with my girlfriend) on the northern side of Neumarkt, where the tram festivities had their starting point. This was the place where the Cologne D▄WAGs were first shown to the public on October 17. 1963, and this is where the free special rides started with the last four cars of the type on this day. And three speciel vehicles were also here!
Track maintenance car number 6405, nicknamed "The Old Lady", was built out of the front sections of two D▄WAGs (3865 and 3869) in a way that it became a bidirectional vehicle.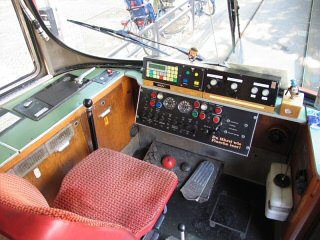 The driver's place features the classic push-pull lever controller.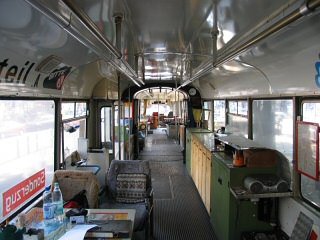 An interior shot. The Cologne articulated D▄WAGs were 2.5 m wide, so they are pretty spacious.
The other six-axle works car, number 6406 was built out of the front sections of number 3858 and 3880. This vehicle's nickname is "Janus".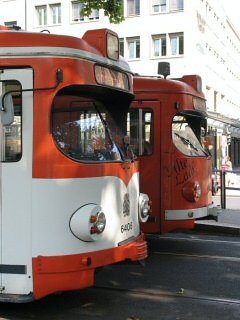 Beside the two shorter "combined" cars...
... party vehicle number 1877 was assembled out of number 3220 and 3810. As the numbers suggest, these two cars were of different production batches, and had even different electric parts.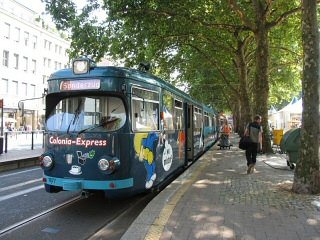 At the end the new car - with the elegant nickname "Colonia Express" - was turned into a really fine rail vehicle...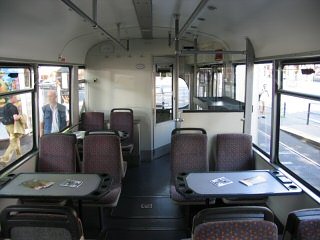 ... with a restaurant-like interior, and even separate men's and ladies' room on board!
Of course these were only the special cars, now let's see the normal ones!
The four remaining eight-axle D▄WAGs - three normal cars and one from the Thielenbruch tram museum - were running special short services. One of these was ending at Poll, Baumschulenweg. The two works cars we've already seen, appeared here and there next to their bigger brothers, to make photo stops even more interesting. I believe the personnel was a voluntary one, and I think we have to be thankful to them for making this day more special!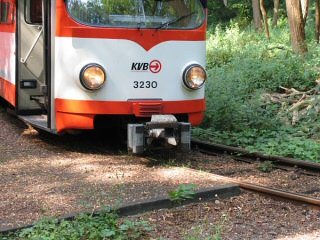 By the way, in the last two decades some of the eight-axle cars were modified to be able to run in coupled double-sets. Part of this modification was the coupling device (here, a BSI - earlier it might have been a SchaKu), which was found on either the front or the back end of the tram only. This ment a specific car was either first or second car in a multiple unit.
The kind personnel even let us ride on one of the works cars!
The DrehbrŘcke stop, with "The Old Lady" and one of the low-floor K4000 trams.
This sight is very much like when I first saw these trams at the end of the eighties: an old Volkswagen Transporter next to number 3209. And of course the towers of the Cologne Cathedral peeking out behind of the tree in the background.
"Round" D▄WAGs meet.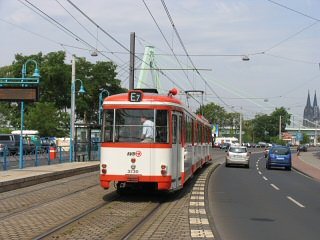 You can see here that this tram is big.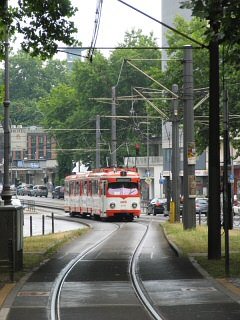 On the other side of the Rhine: number 3205 near Rudolfplatz.
An interior shot: about 290 passengers (standing and seated counted together) have had place in here!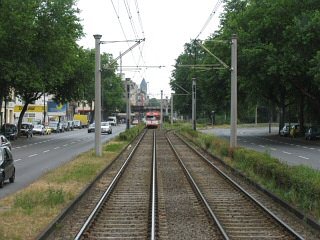 Number 6406 following us in Aachener Strasse.
A short video of one of these trams running through a small bend.
Leaving the reversing loop at Junkersdorf.
Number 3764, the museum car seen at Rheinenergie Stadion.
There are some differences among these trams: some started their lives as six-axle ones, receiving a newly-built extension by D▄WAG later (number 37xx), and some received a longer body using the bodies of 4-axle D▄WAG trailers (number 30xx and 31xx, later 32xx). You can spot this in the number of windows between the second articulation and the next door: some have two windows here, others just one. And of course there were some A5s (number 38xx), that were already manufactured as eight-axle trams. What an interesting life-cycle these trams had!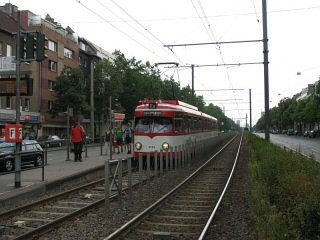 The museum car at the stop Aachener Strasse/GŘrtel...
... and leaving it, while being photographed by a group of enthusiasts :)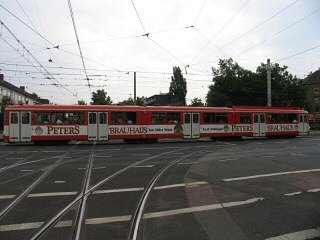 Here's another photo, just to give a hint how long this type was (29 meters).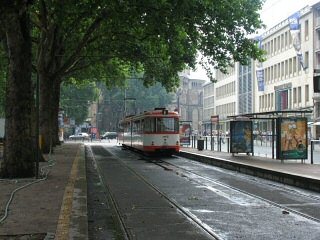 Later that day, when the festivities already ended, we found number 3230 still waiting on the northern side of Neumarkt. Maybe it was lamenting over its long life? I wish I could get one of these trams to Budapest, I would say the more of them gets preserved, the better. Of course there's about 60 of them still running in the turkish city of Konya - but that's another story!
---
Back to the top
Back to the main page