BKV Urban Public Transport Museum
Episode two: the last business day in 2000
I was there on the season-opening day of 2000 so it was evident that I must be there when they close the museum for the winter, to wish all the vehicles an unpertubed winter sleep!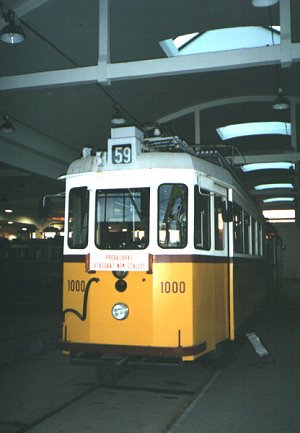 What else could I started with as my all-time favorite BKV Nr./Type 1000? I hope one day I'll have a chance to ride with it just I did around 1981.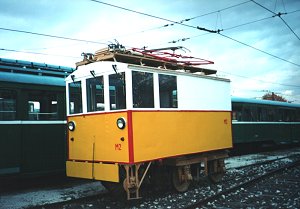 Now this is a strange one: a miniature snow-sweeper! It doesn't have any means to advance on its own: the current collector is there to drive the motor of the rotating sweeps, so it must be pushed by another vehicle.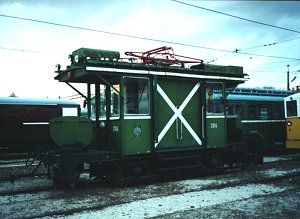 This one's better: a motorized HÉV snow-sweeper, still used during the winter!
This diesel-electric loco (produced by Ganz-MÁVAG) is still used by BKV. It's a modified version of the M44 loco used by the hungarian state railway MÁV.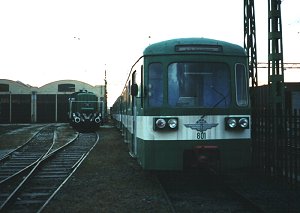 Electric multiple unit of the HÉV from the type M IX (M nine). This vehicle was built in Hungary but was later modified using components of the M X (M ten) EMU built by VEB Henningsdorf, East Germany. After that it was called M IX A (M ten A). This is the prototype train set. In the background to the left you can see the remise where the tram collection is housed.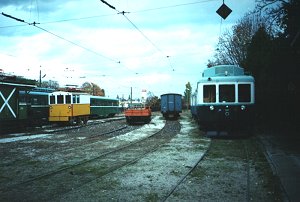 A last glance at the yard. The vehicle on the right is a modified diesel HÉV train originally built in Oradea (Arad).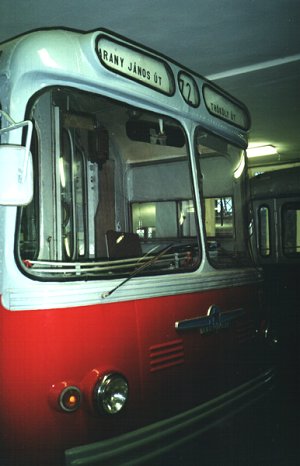 On the first page about this museum I mentioned that there are also buses displayed here. Just for the taste of it, here are a couple of pictures taken at the back hall of the museum building, where they keep them. Above: the front of the soviet-made ZIU-5 trolleybus.
Ikarus was (is) a famous hungarian company (just think fo the Ikarus 55) which was one of the main supplier of buses inside the COMECON (and outside: some of their models have made it to Hamburg, San Francisco, etc). The hungarian transportation companies bought their buses in high quantities but unfortunately not many of them remained (at least not here in Hungary). Above: the Ikarus 180 was their first articulated model. Of course there were articulated buses before that too, but those were built by the transportation companies out of parts of solo buses.
Model 556 was the "solo version" of the 180. I liked these buses when I was a child - one of my first memories I still remember is a ride with them on bus route 53 to Móricz Zsigmond körtér! The 180/556 family was withdrawn by BKV until the end of the seventies so I was surprised when I saw all these oldies still used in East Germany in 1987!
More pictures, in better quality...
---
Back to the top
Back to the main page